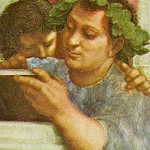 Dear Reader,
Welcome to my website dedicated to exploring the many facets of the Italian Renaissance.
When my editor and I first discussed publishing A Short History of Renaissance Italy, we decided not to include illustrations so we could make the edition more affordable. Because the book contains such a wide variety of  cultural information, as well as descriptions of many works of art, I originally created this website to supplement and enhance the text.
Every chapter in the book has a corresponding page on this site, where the reader can view images of many of the people, places, and objects described in the text. There is also a Resources page with related links.
I have since begun adding material from several of my works in progress, including material from my forthcoming book:  A Corresponding Renaissance: Letters Written by Italian Women 1375-1650, New York,  Oxford University Press, due 2014.
I hope you find this site useful and, as always, I enjoy receiving comments and suggestions!
                                                                                                                                                  Lisa Kaborycha

Copyright © 2011-2013 www.lisakaborycha.com | All Rights Reserved