Art in a Time of Turmoil
Leonardo da Vinci wrote an extraordinary letter to the Duke of Milan offering his services primarily as a military engineer…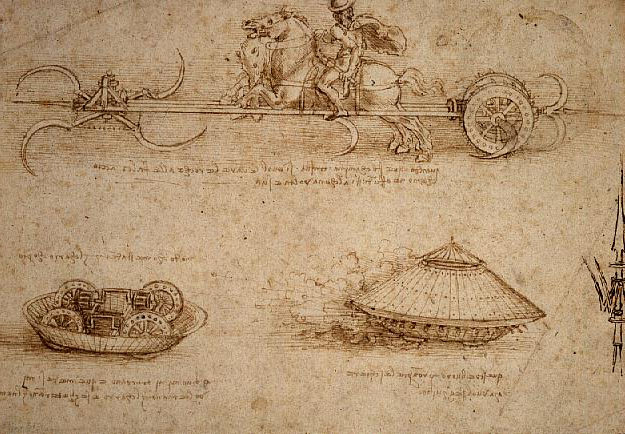 and only mentioned in passing his skills as an artist.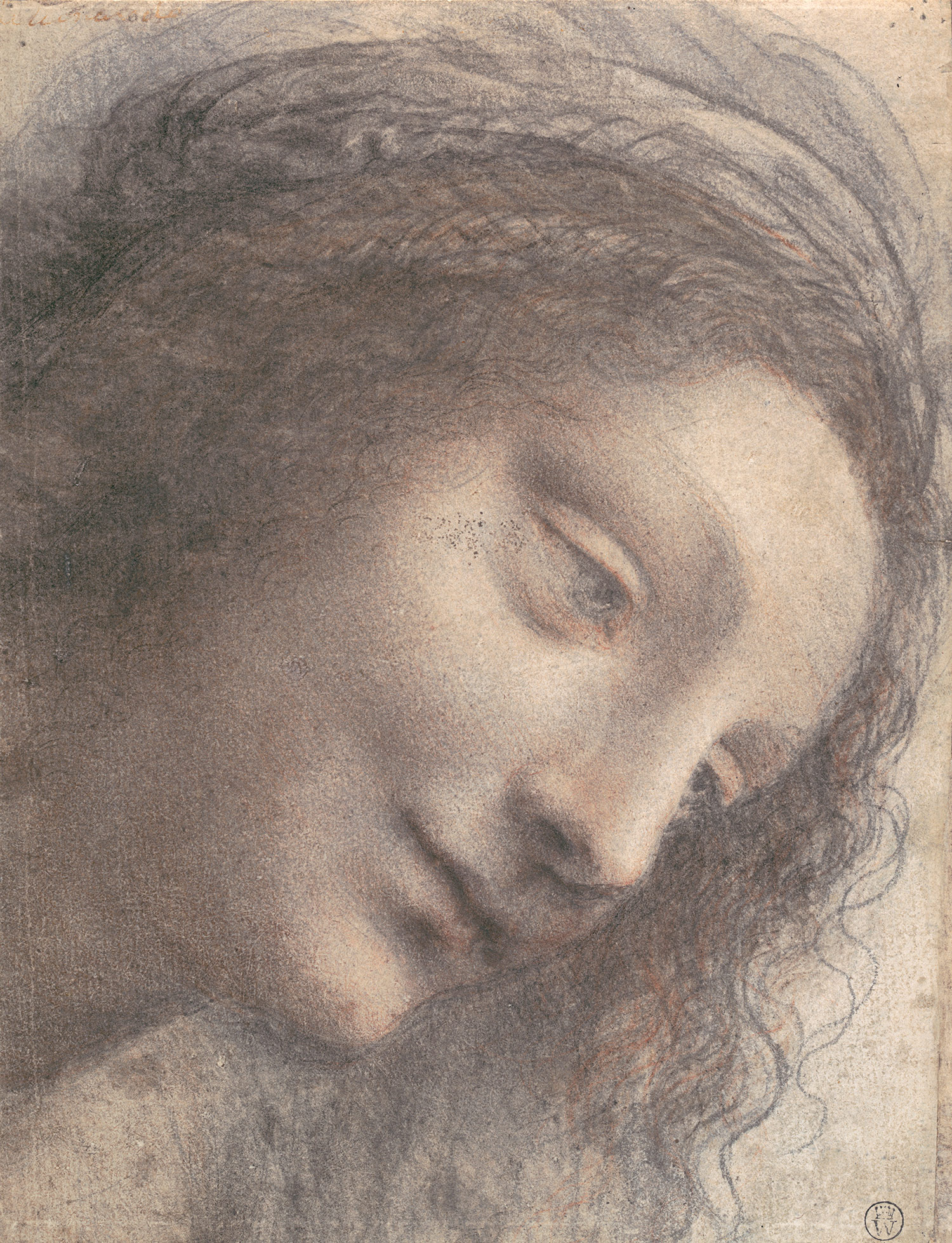 This is a copy of a secretarial draft of Leonardo's letter to Lodovico Sforza: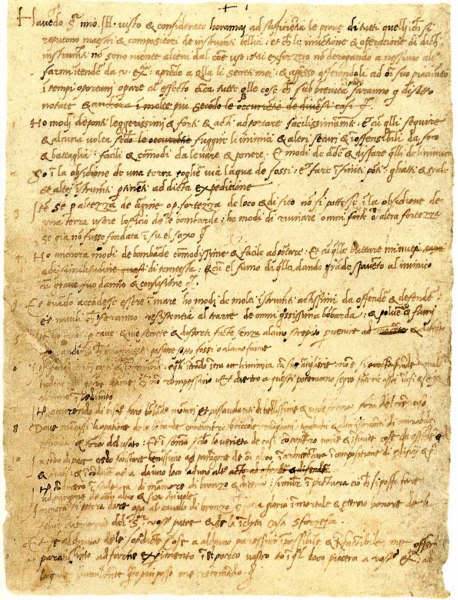 Leonardo writes:
My Most Illustrious Lord, having now sufficiently seen and considered the achievements of all those who count themselves masters of instruments of war, whose inventions are nothing out of the ordinary, I shall endeavor, while intending no discredit to anyone else, to bring myself to the attention of Your Excellency for the purpose of unfolding to you my secrets, and thereafter putting them at your complete disposal, and when the time is right bringing into effective operation all those things which are in part briefly listed below:
I have plans for very light, strong and easily portable bridges with which to pursue and, on some occasions, flee the enemy, and others, sturdy and indestructible either by fire or in battle, easy and convenient to lift and place in position. Also means of burning and destroying those of the enemy.
I know how, in the course of a siege, to remove water from moats and how to make an infinite number of bridges, scaling ladders, and other instruments necessary to such an enterprise.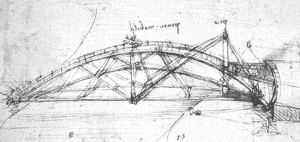 Also, if one cannot, when besieging a terrain, proceed by bombardment either because of the height or the strength of its situation and location, I have methods for destroying every fortress or other stronghold unless it has been founded upon a rock or so forth.
I have also types of cannon, most convenient and easily portable, with which to hurl small stones almost like a hail-storm;  and the smoke from the cannon will instill a great fear in the enemy on account of the grave damage and confusion.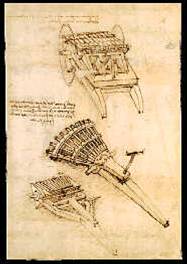 Also, I have means of arriving at a designated spot through mines and secret winding passages constructed completely without noise, even if it should be necessary to pass underneath moats or any river.
Also, I will make covered vehicles, safe and unassailable, which will penetrate the enemy and their artillery, and there is no host of armed men so great that they would not break through it. And behind these the infantry will be able to follow, quite uninjured and unimpeded.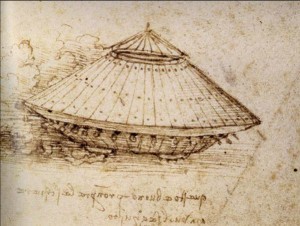 Also, should the need arise, I will make cannon, mortar and light ordnance of very beautiful and functional design that are quite out of the ordinary.
Where the use of cannon is impracticable, I will assemble catapults, mangonels, trebuchets, and other instruments of wonderful efficiency not in general use. In short, as the variety of circumstances dictate, I will make an infinite number of items for attack and defense.
And should a sea battle be occasioned, I have examples of many instruments which are highly suitable either in attack or defense, and craft which will resist the fire of all the heaviest cannon and powder and smoke.
In time of peace I believe I can give as complete satisfaction as any other in the field of architecture, and the construction of both public and private buildings, and in conducting water from one place to another.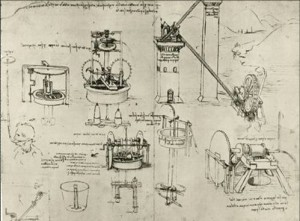 Also, I can execute sculpture in marble, bronze and clay.  Likewise, in painting, I can hold my own against anyone, whoever he may be.
Moreover, work could be undertaken on the bronze horse which will be to the immortal glory and eternal honor of the auspicious memory of His Lordship your father, and of the illustrious house of Sforza.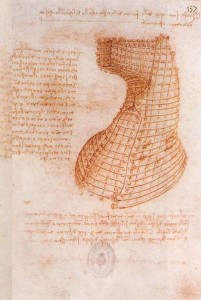 And if any of the above-mentioned things seem impossible or impracticable to anyone, I am most readily disposed to demonstrate them in your park or in whatever place shall please Your Excellency, to whom I commend myself with all possible humility.
Leonardo was a man of genius, whose life was full of contradictions.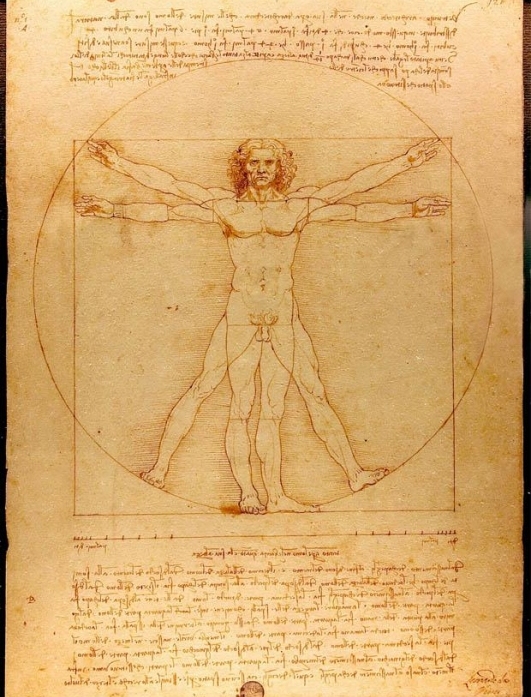 Leonardo's "Vitruvian Man"
http://leonardodavinci.stanford.edu/submissions/clabaugh/welcome.htm
He gloried in the study of the human form.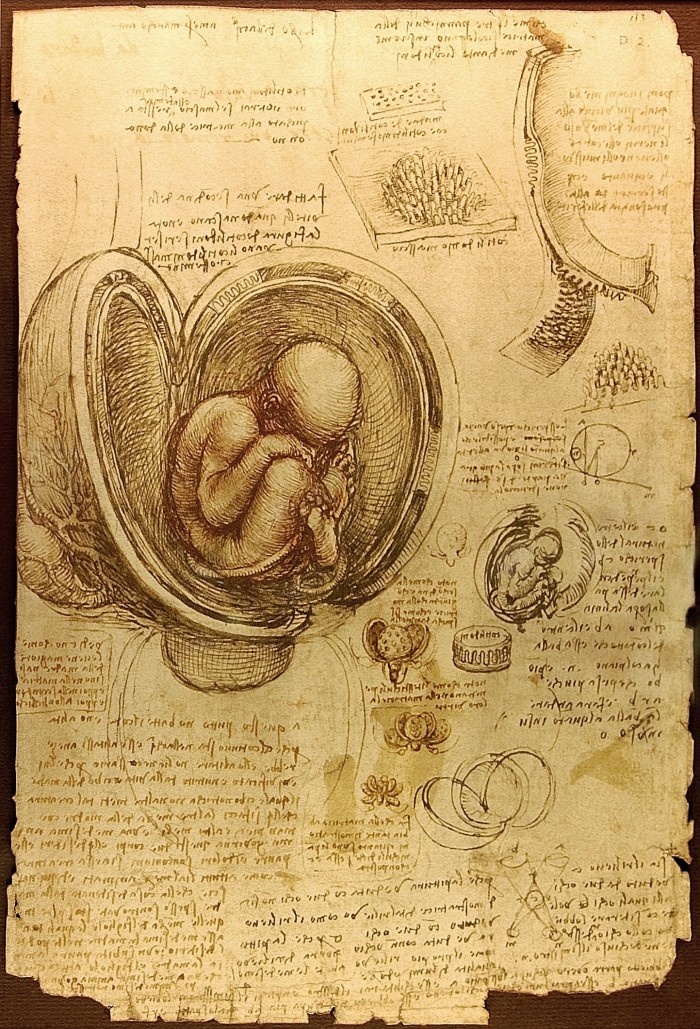 And yet was prepared to create terrifying war machines that ripped bodies to pieces.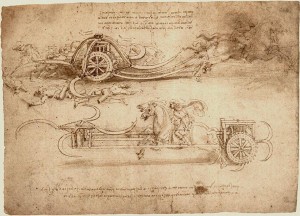 More than his scientific studies, Leonardo is most famous today for his paintings.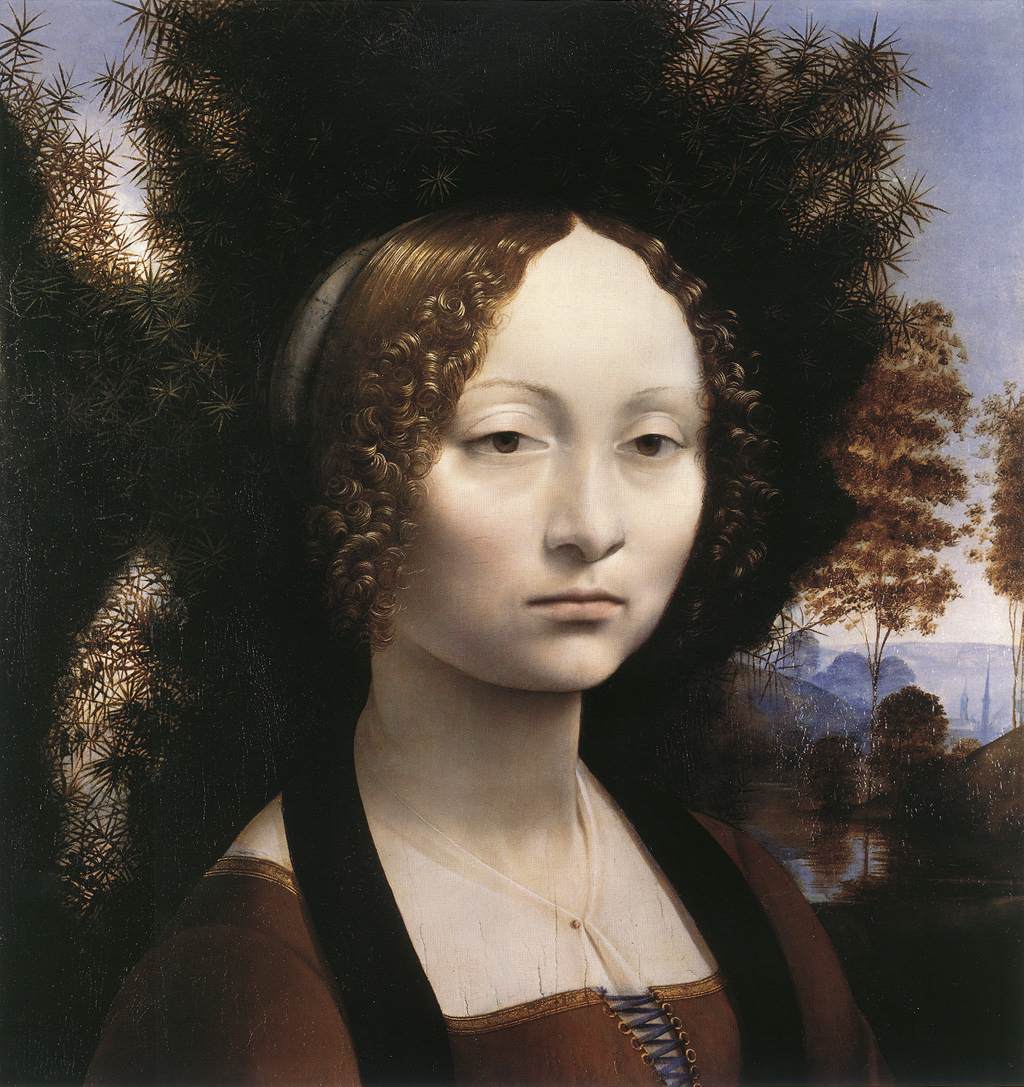 Leonardo, Portrait of Ginevra de' Benci
As court painter, Leonardo painted this portrait of  the Duke of Milan's Mistress: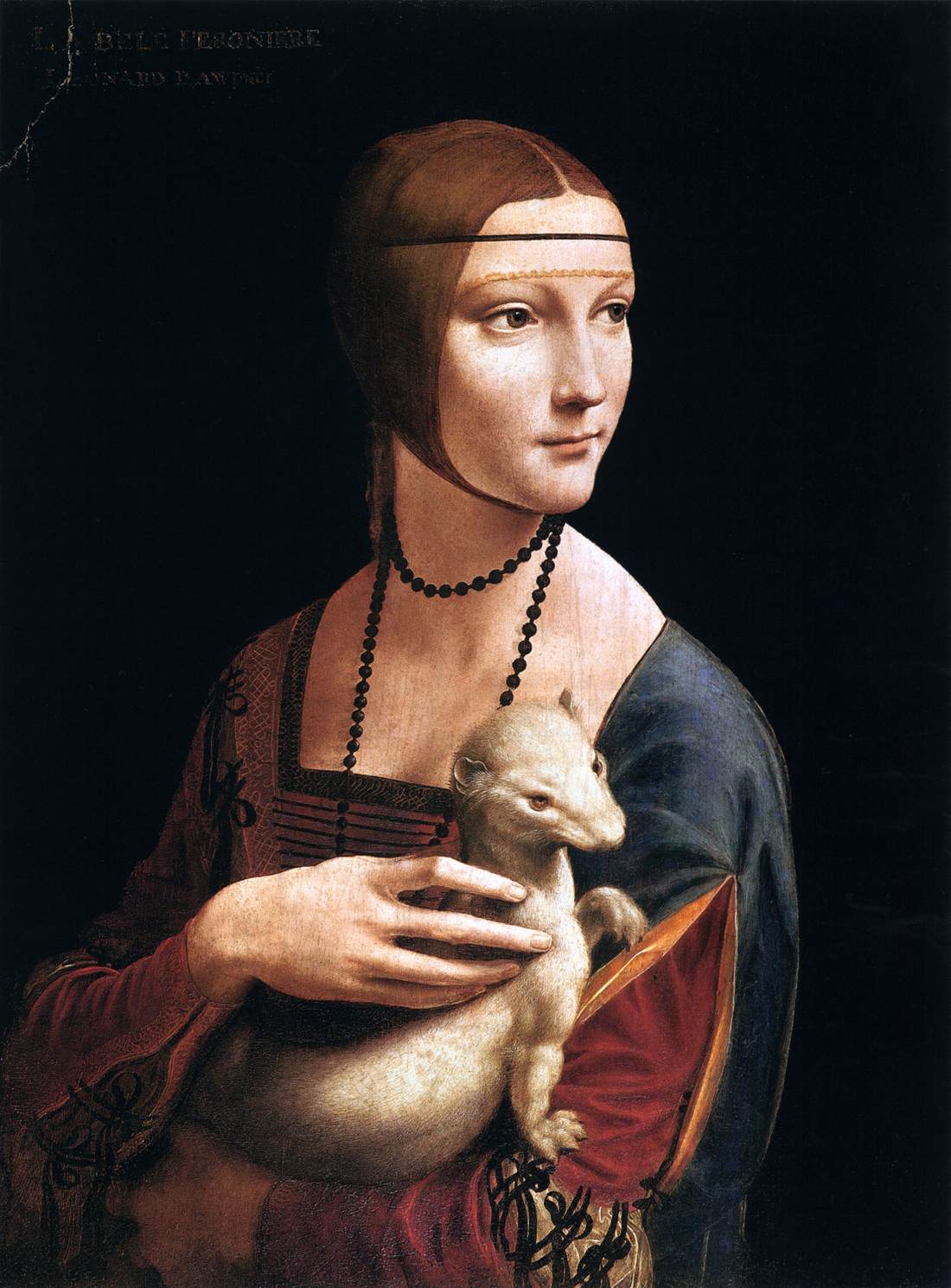 Leonardo, Portrait of Cecilia Gallerani or Lady with Ermine
When Lodovico Sforza was driven from Milan, Leonardo was forced to flee, staying briefly in Mantua where he made this sketch of the Marchesa: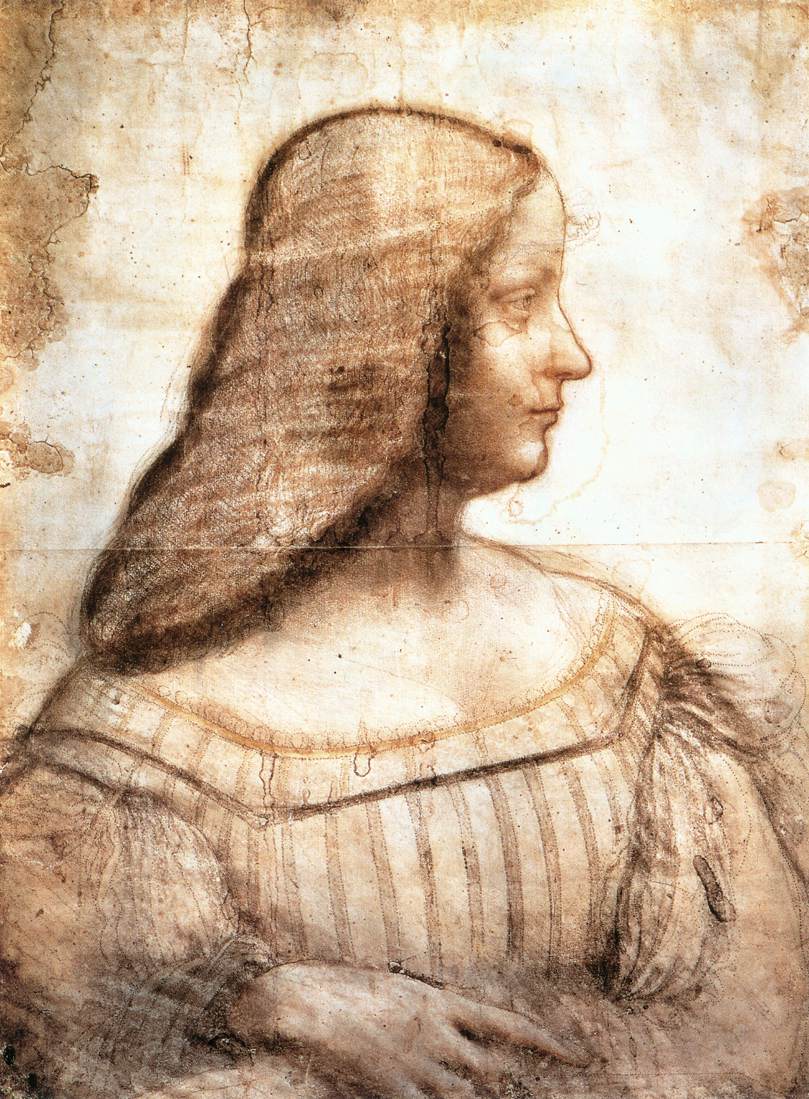 Leonardo, Portrait of Isabella d'Este, Marchessa of Mantua
Here is a link to an exhibit at the Louvre on paintings in Isabella's studiolo:
http://mini-site.louvre.fr/mantegna/acc/xmlen/section_8_0.html
Italian Renaissance courts, such as Mantua, were important centers of artistic patronage.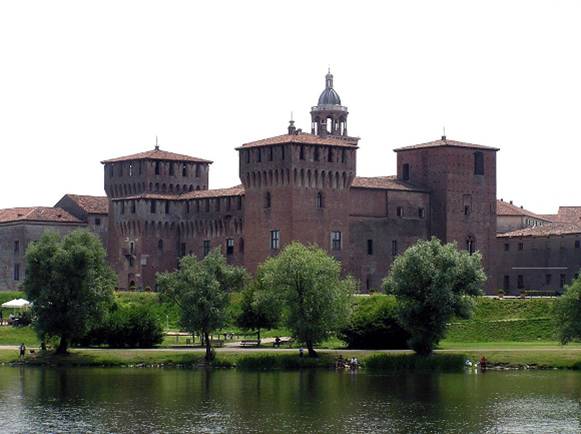 Castello San Giorgio, Mantua
Lodovico Gonzaga commissioned the churches of San Sebastiano and Sant'Andrea to be built by Leon Battista Alberti:
Interior of Church of Sant'Andrea, Mantua
He also employed Andrea Mantegna as court painter.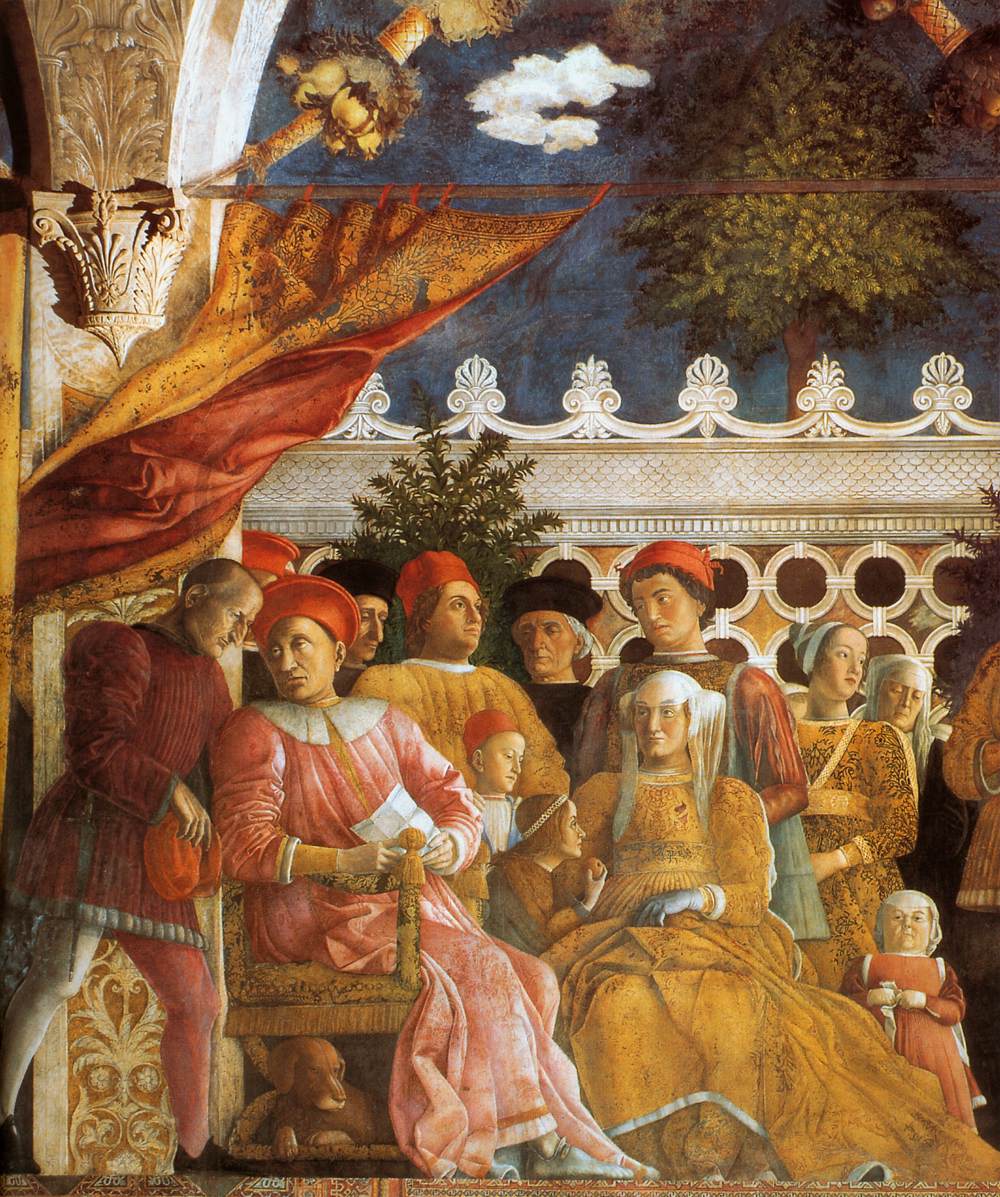 Images of the Marchese Lodovico Gonzaga, his family, and court
from Mantegna's Camera degli Sposi, Palazzo Ducale, Mantua
Below is the entire wall: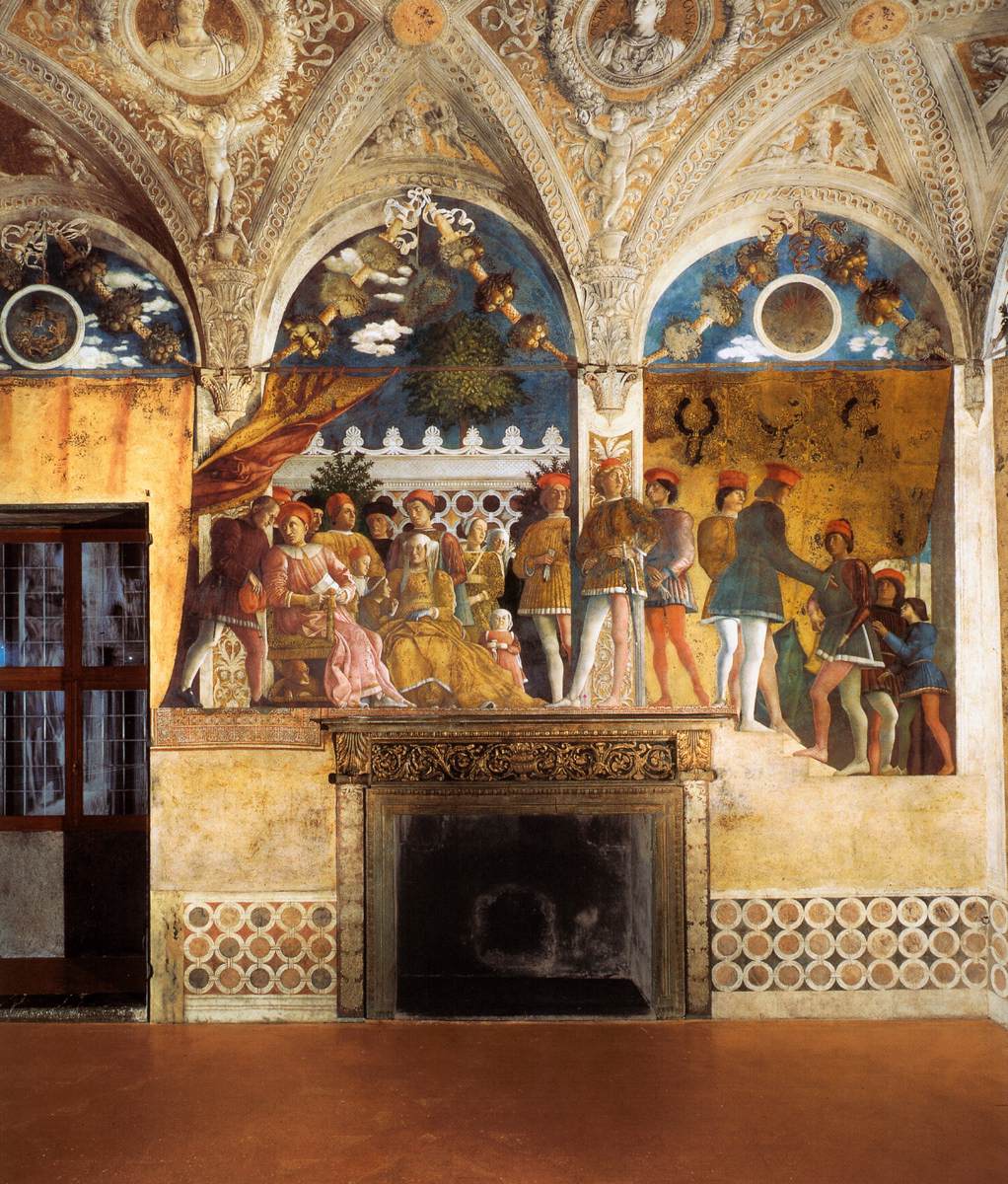 Looking up, there is the delightful trompe-l'oeil oculus painted on the ceiling: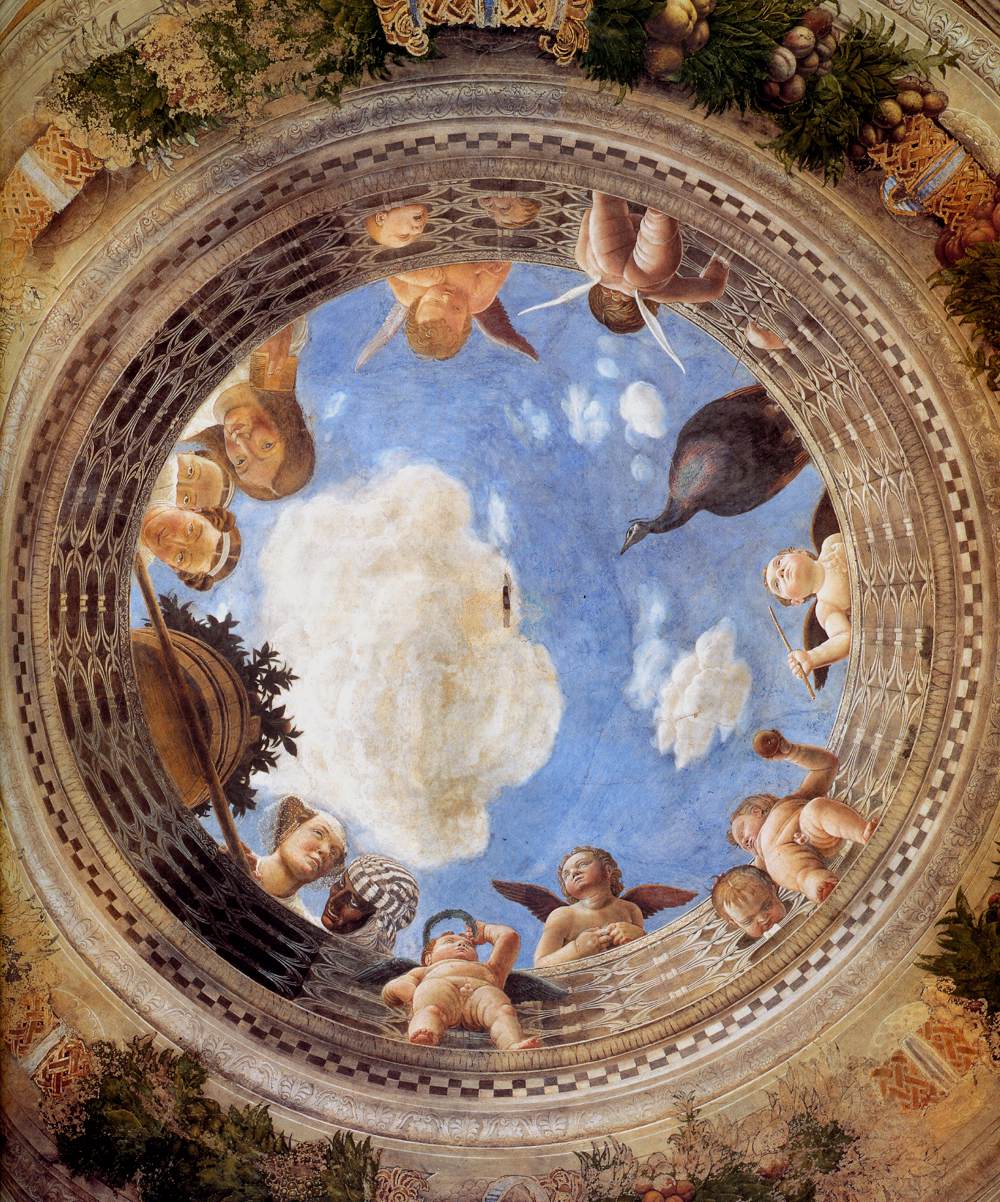 Mantegna apparently slipped this self-portrait in with the decorative grotesque designs: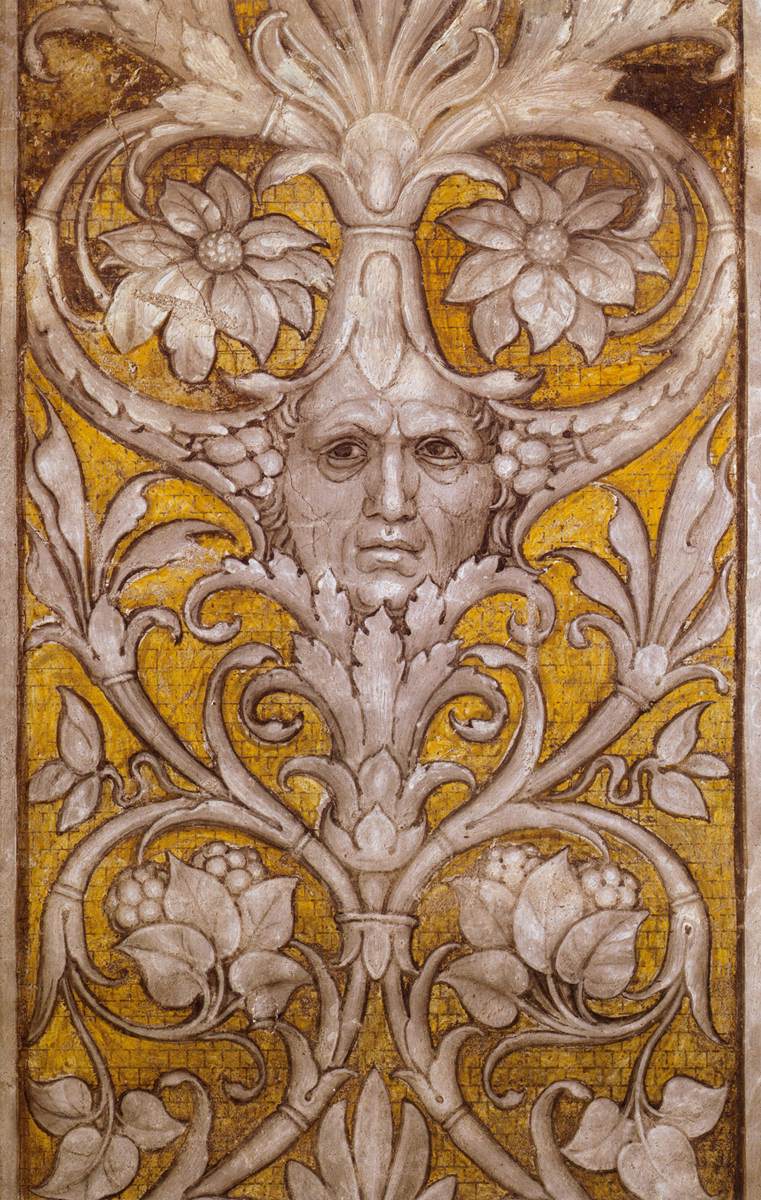 Though smaller and less powerful than large centers such as Venice, Florence, Milan, Naples, or Rome, these courts produced some of the finest art, music, and architecture of the Renaissance.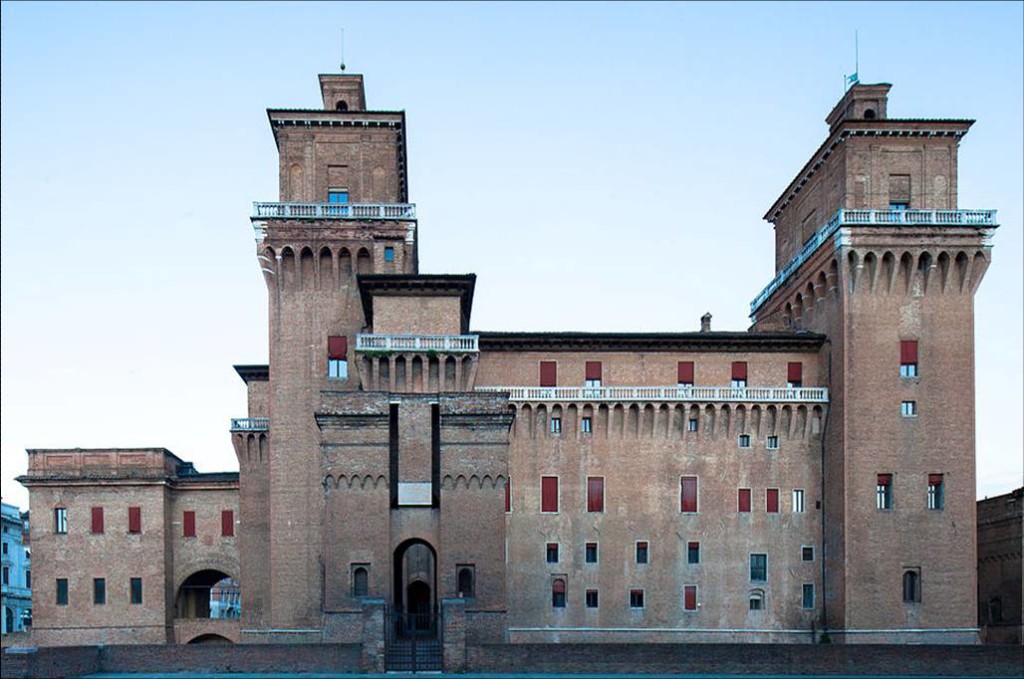 Castello di San Michele, Ferrara
Borso d'Este, duke of Ferrara was an important patron of manuscript illuminators: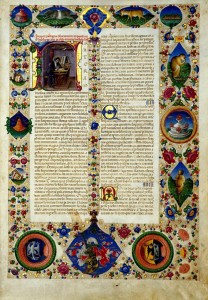 Bible of Borso d'Este
He also had the Palazzo Schifanoia in Ferrara restored and magnificently decorated: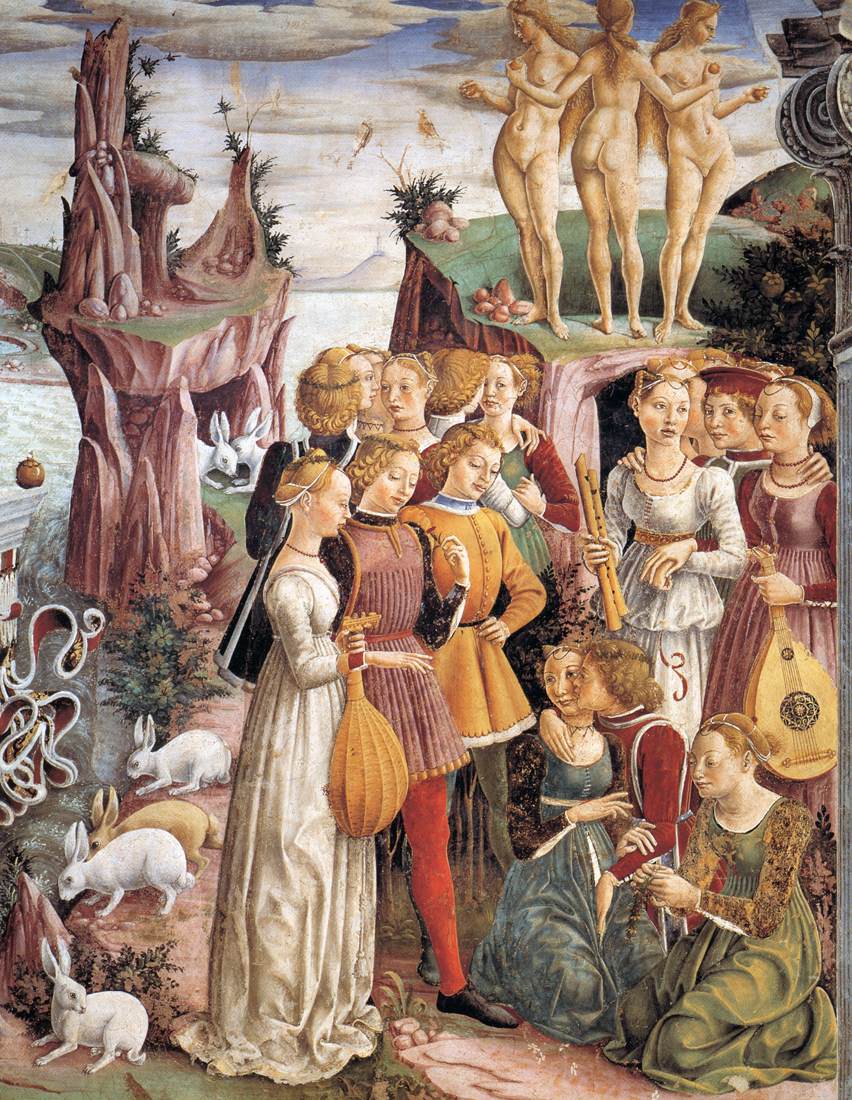 Detail of Francesco Cossa's Triumph of Venus
The rugged Apennine mountain range seems an unlikely setting for one of the most sophisticated courts of Renaissance Italy: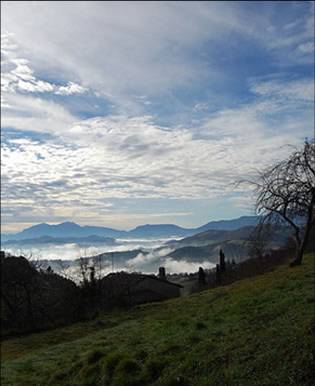 Federico da Montefeltro, duke of Urbino was a famous condottiero, as well as one of the most cultured princes of the Renaissance.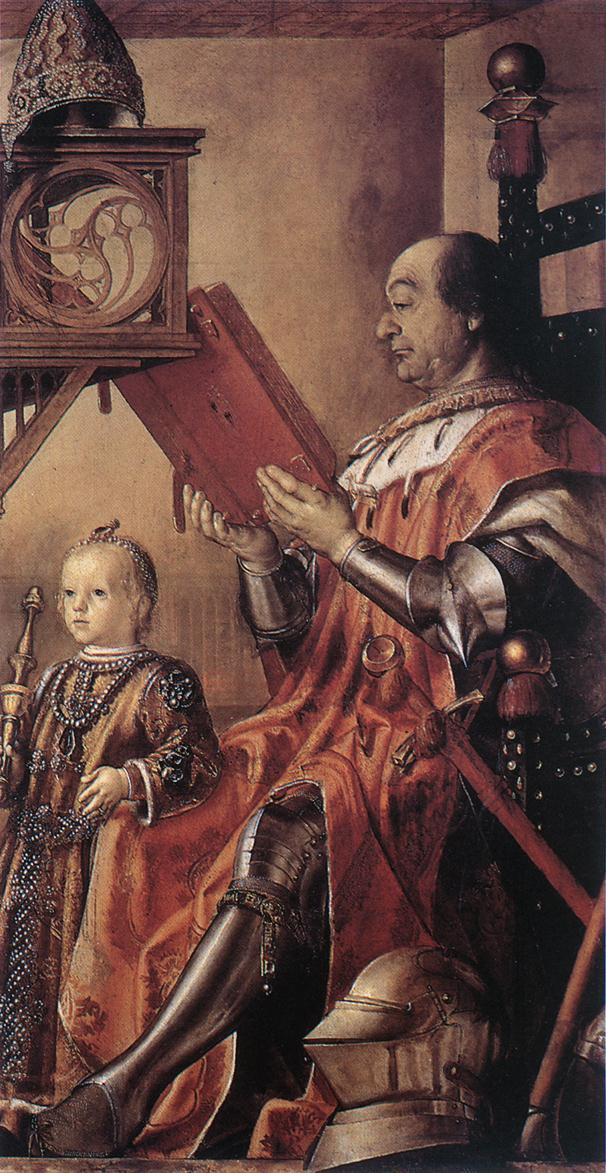 Pedro Berruguete, Portrait of Federico da Montefeltro and His Son 
The Ducal Palace in Urbino was renowned not only for its architecture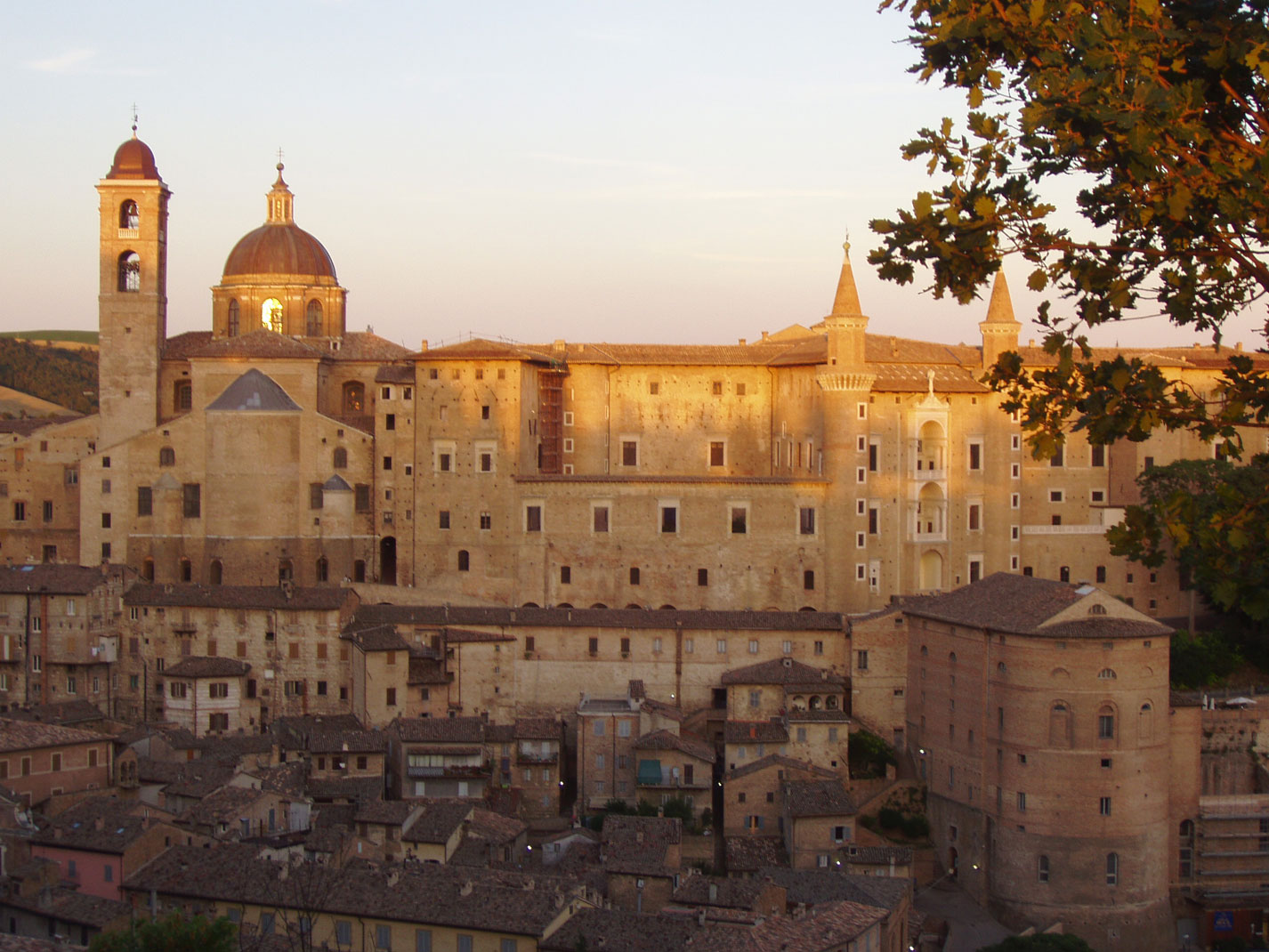 Palazzo Ducale, Urbino
but also for its excellent  library with its large collection of humanist books.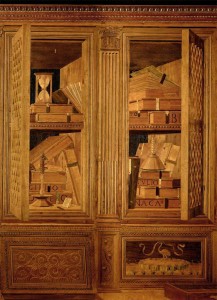 Meanwhile, elsewhere in the peninsula, despite the growing political turmoil, the artists continued to produce ever more stunningly innovative works.
In Venice there was Titian…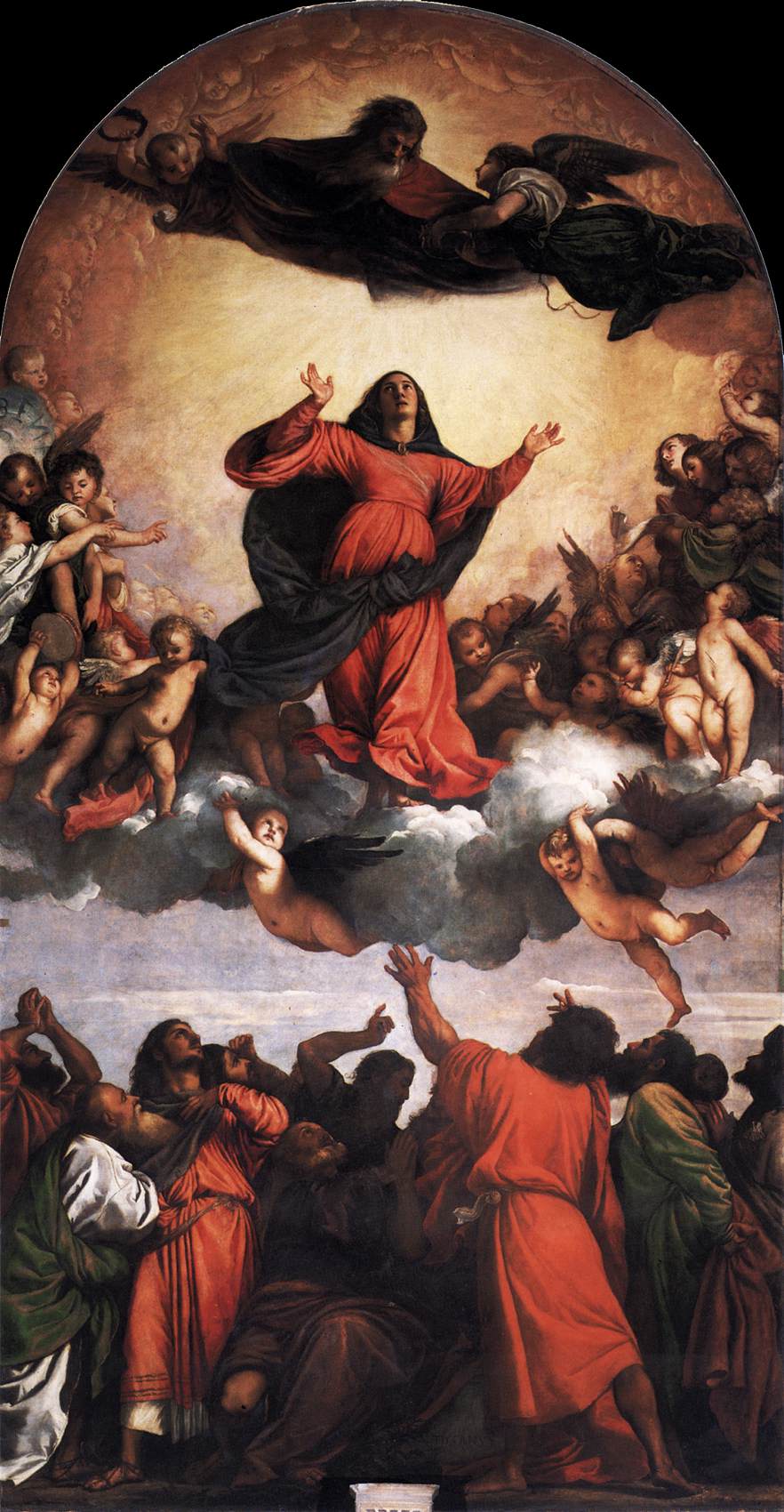 Titian, Assumption of the Virgin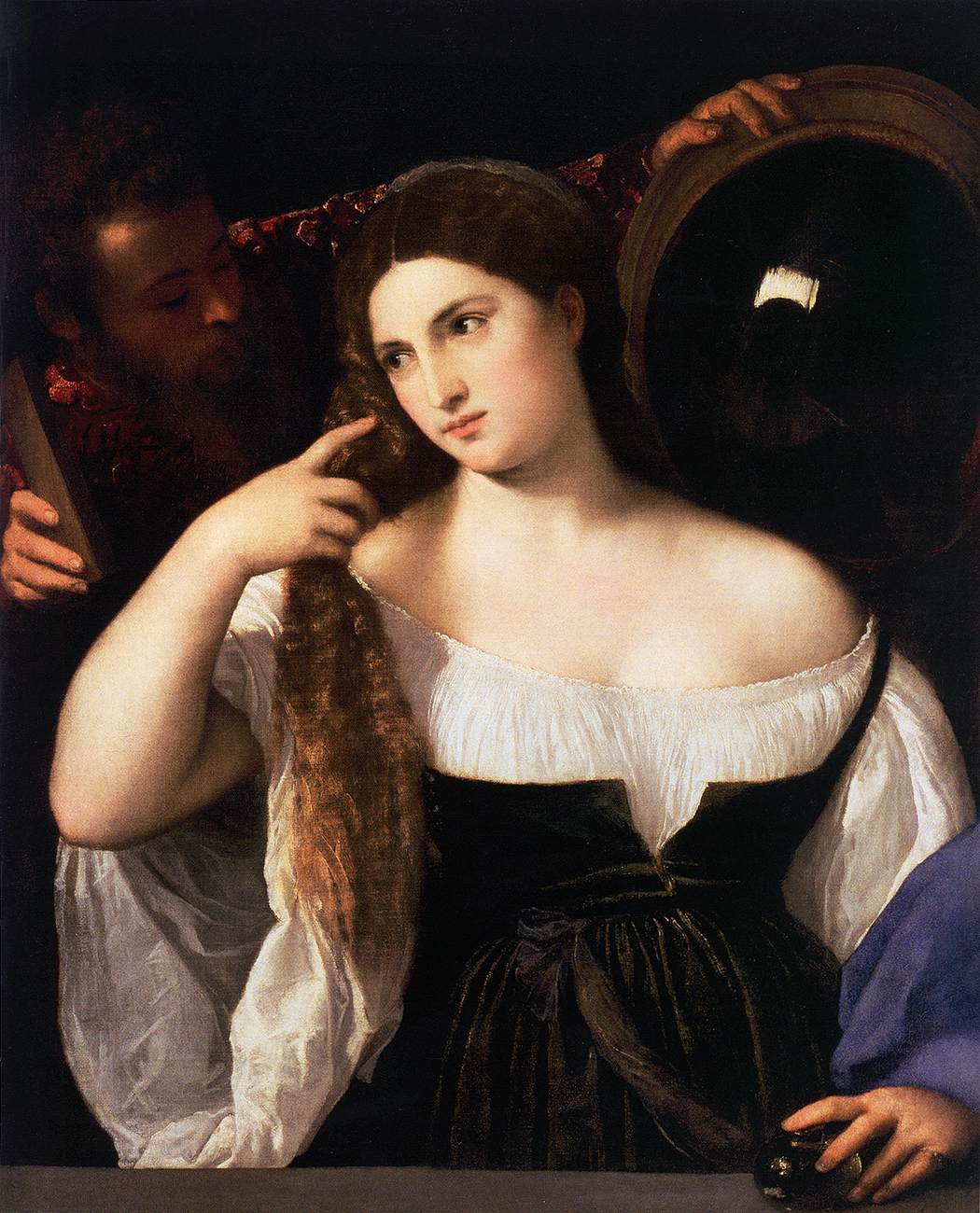 Titian, Portrait of a Woman with a Mirror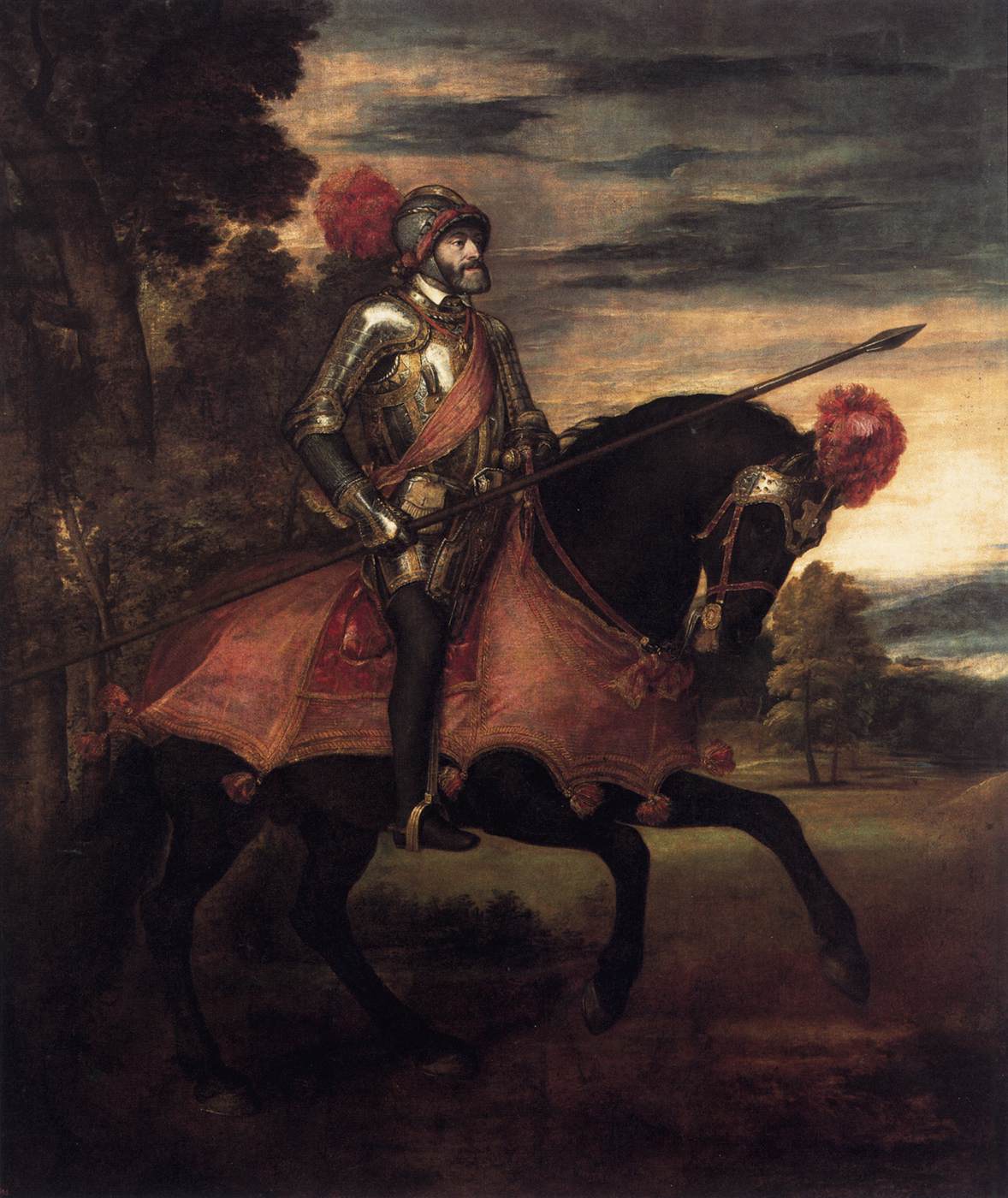 Titian, Equestrian Portrait of the Emperor Charles V
and in Florence, the young Michelangelo Buonarroti revolutionized sculpture…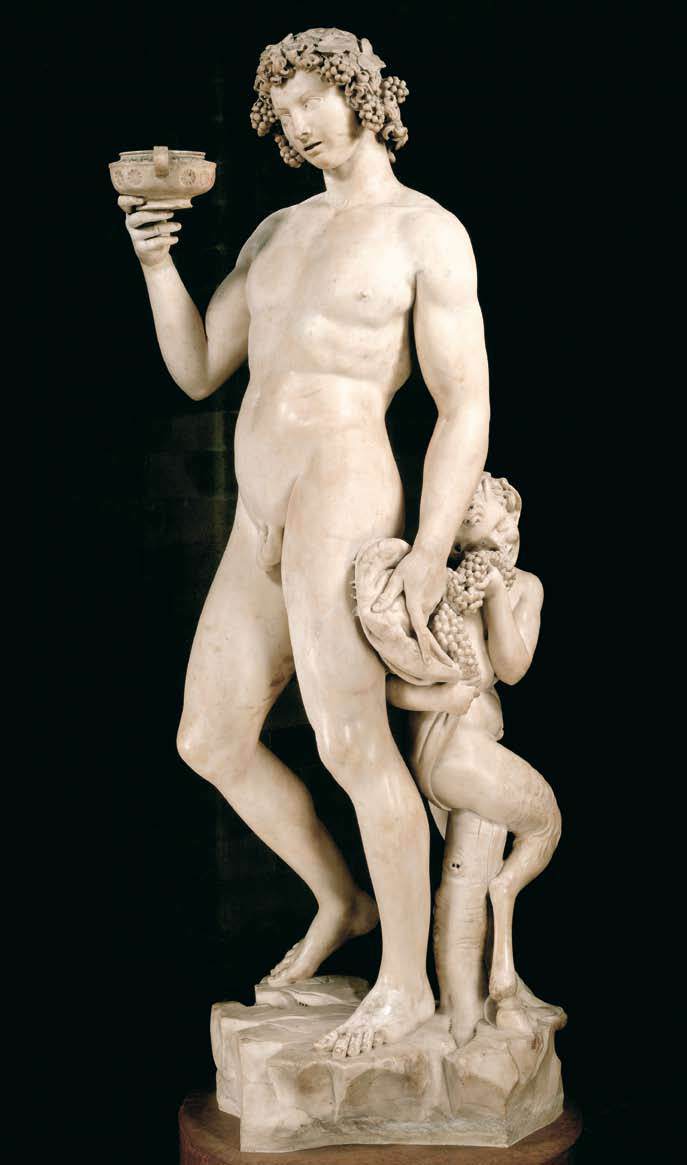 Bacchus, an early work by Michelangelo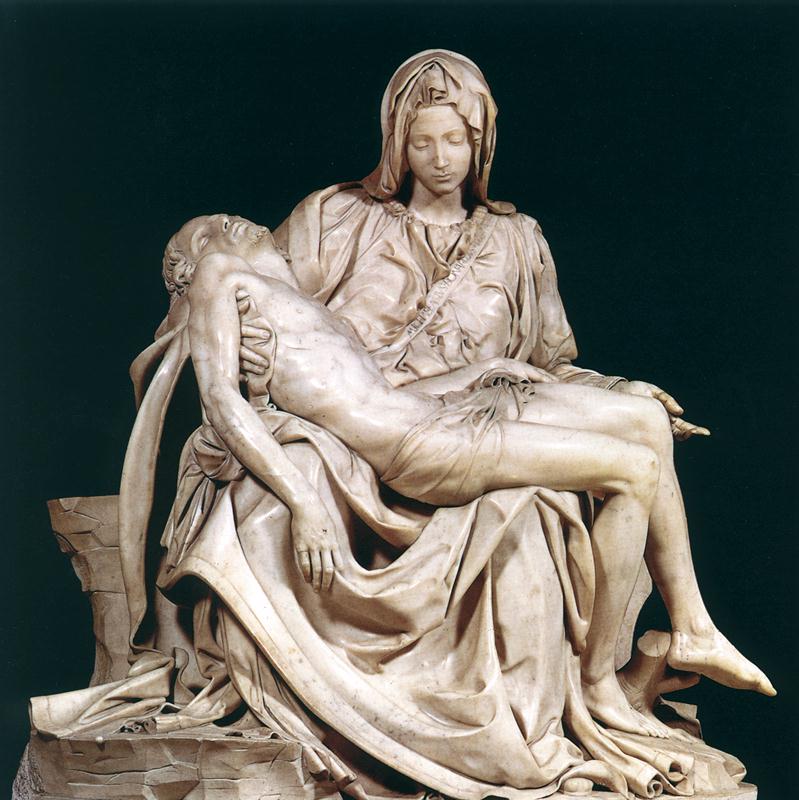 Michelangelo, Pietà
above all with his statue of the biblical hero David.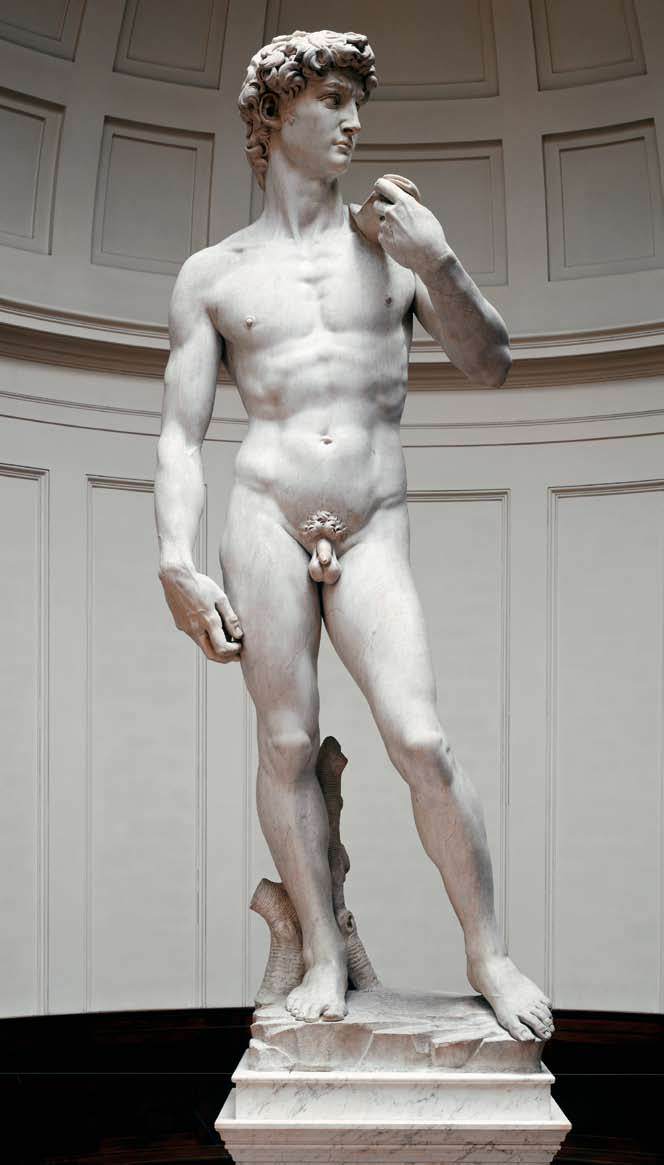 Michelangelo, David in its present location in the Galleria dell'Accademia
A copy of the David stands to the left of the entrance to the Palazzo Vecchio, where  the original was once placed.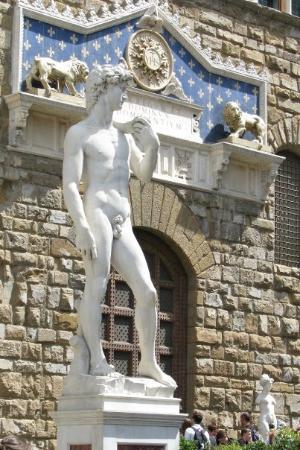 In 1505 Michelangelo was called to Rome by Pope Julius II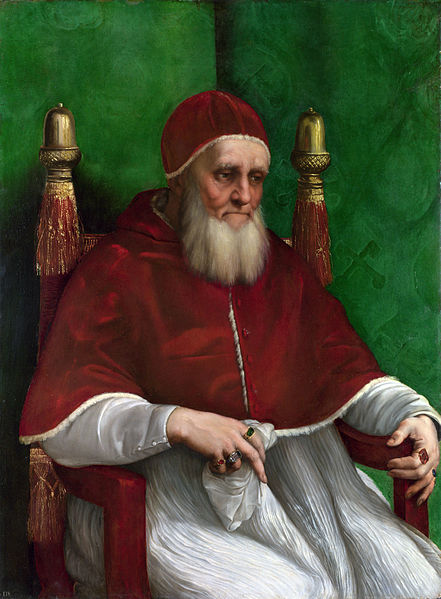 Raphael, Portrait of Pope Julius II
Michelangelo was originally set to work by Julius II  on an immense tomb for the Pope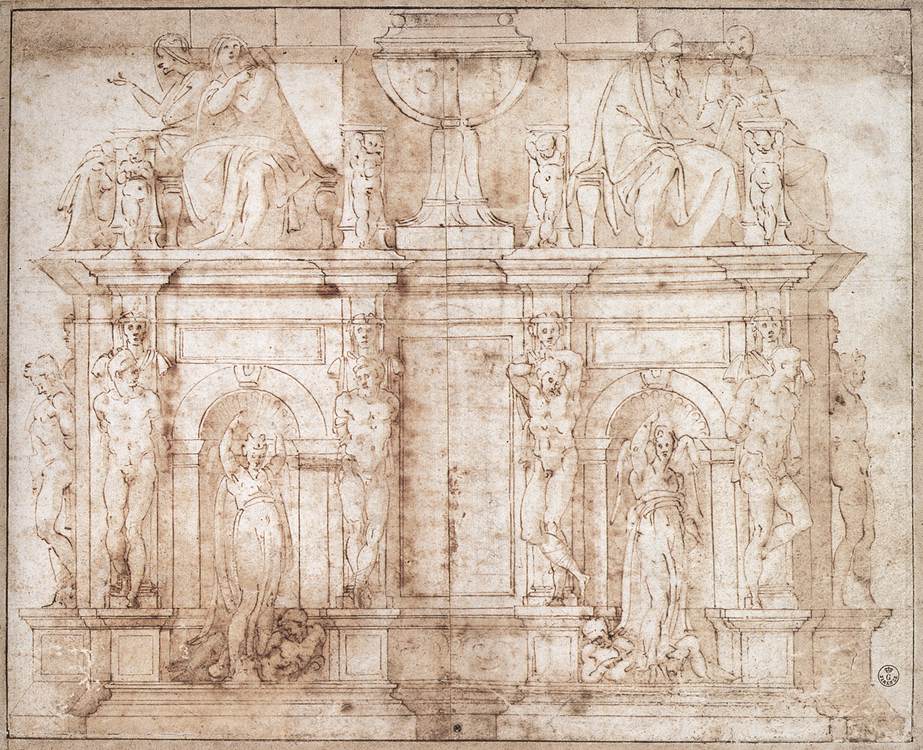 One of Michelangelo's preliminary drawings for the tomb
It was an ambitious project, which was never finished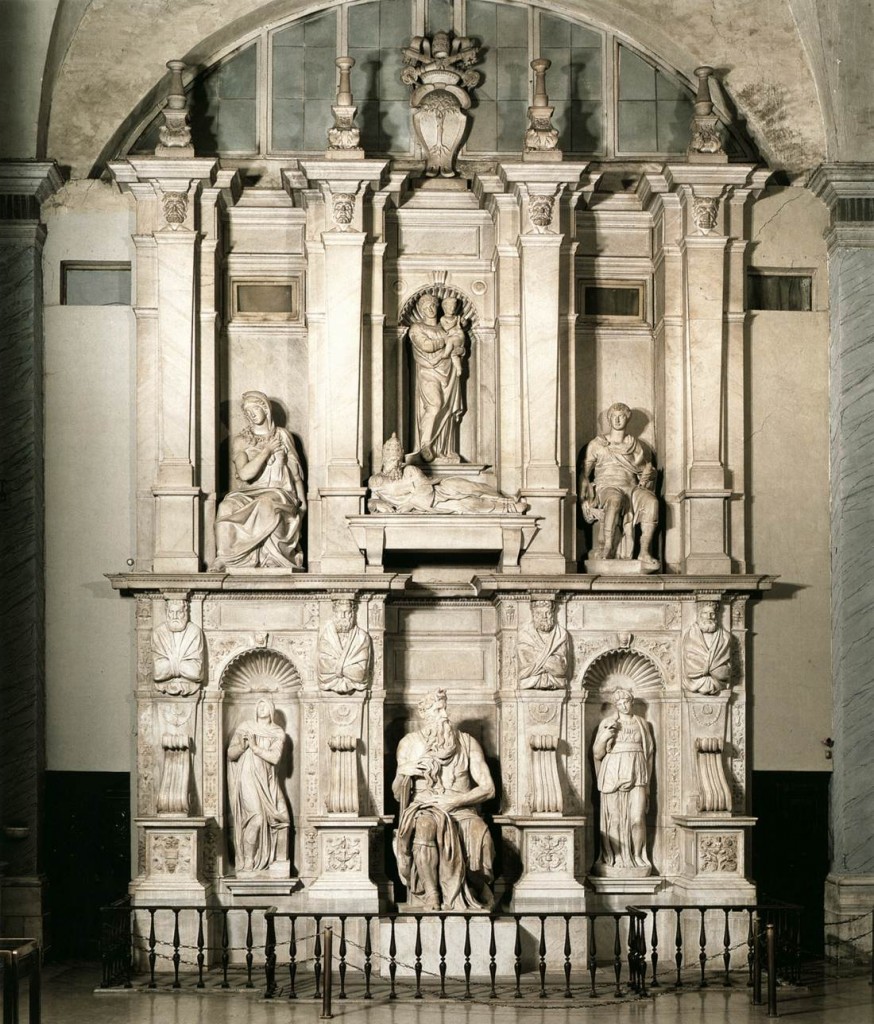 A smaller version of the Pope's tomb in San Pietro in Vincoli, Rome
Julius took the artist off the job and put him to work on on an even more ambitious project, the painting of the Sistine Chapel ceiling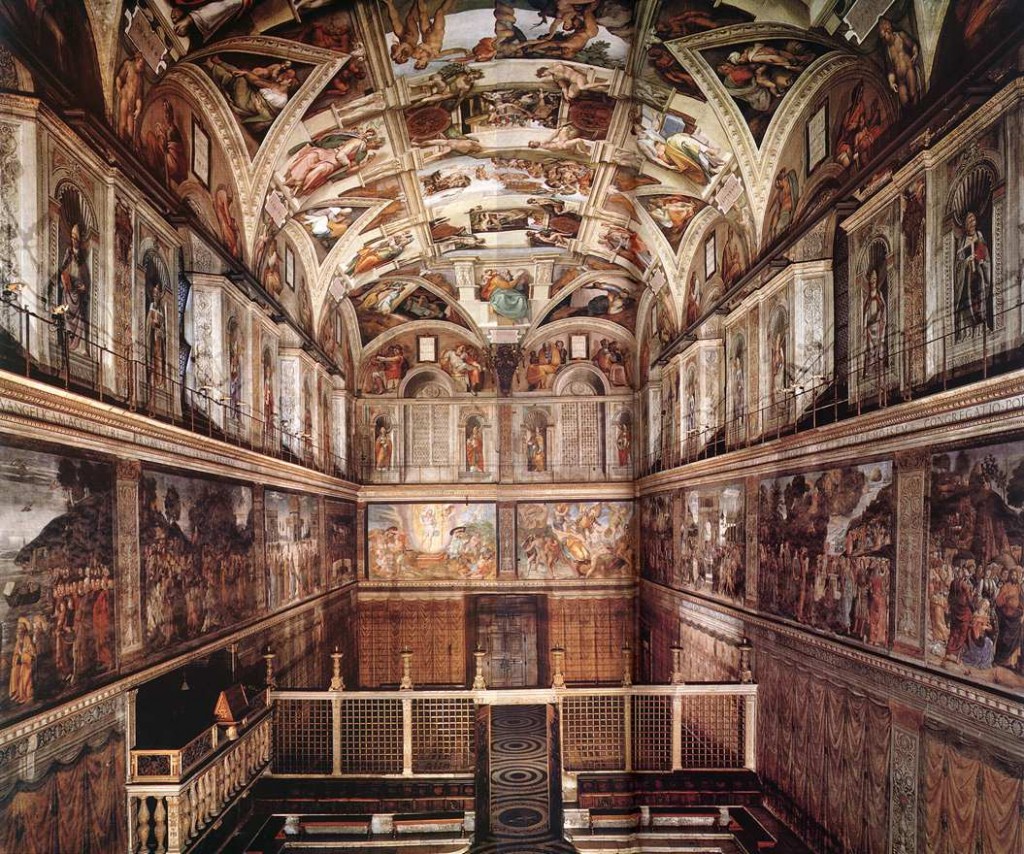 The walls of the enormous papal chapel were already decorated with frescoes by  Sandro Botticelli,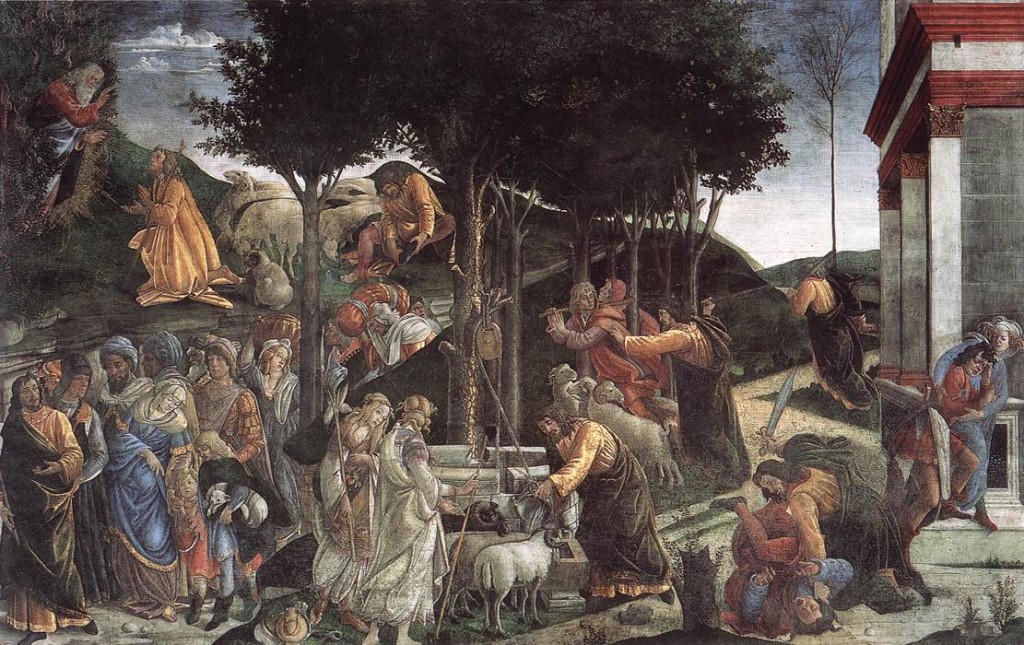 Botticelli, The Trials and Calling of Moses
Pietro Perugino,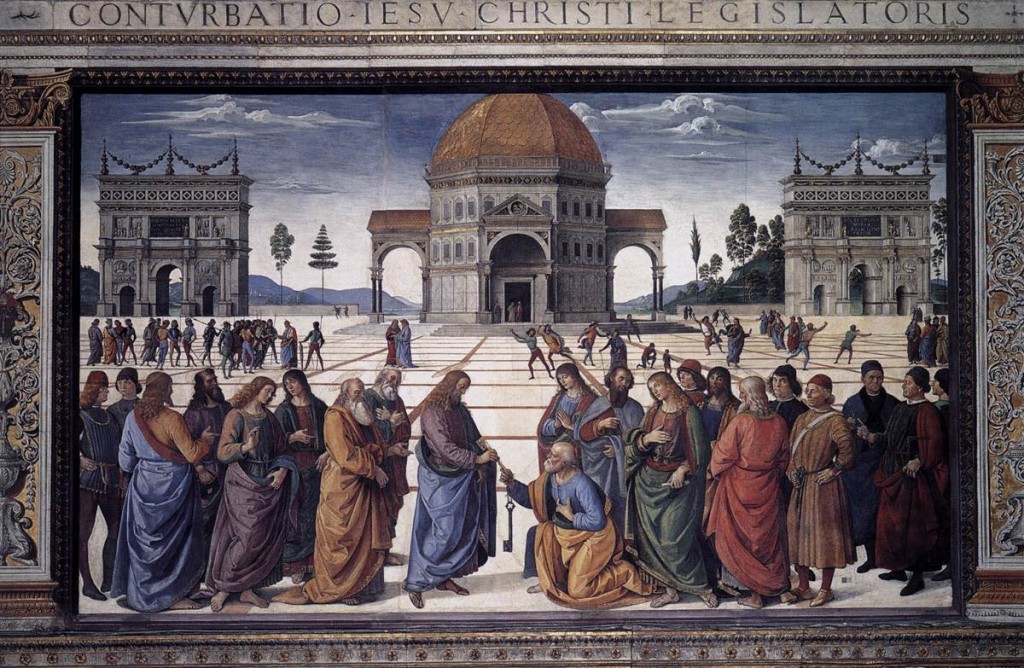 Perugino, Christ Handing the Keys to St Peter
Domenico Ghirlandaio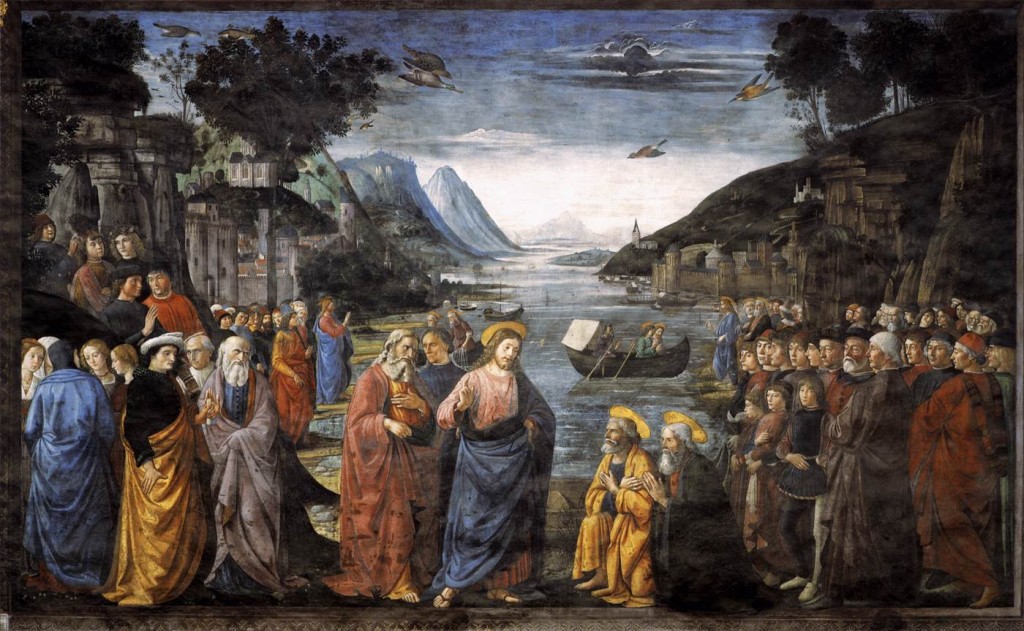 Ghirlandaio, The Calling of the Apostles
and Cosimo Rosselli.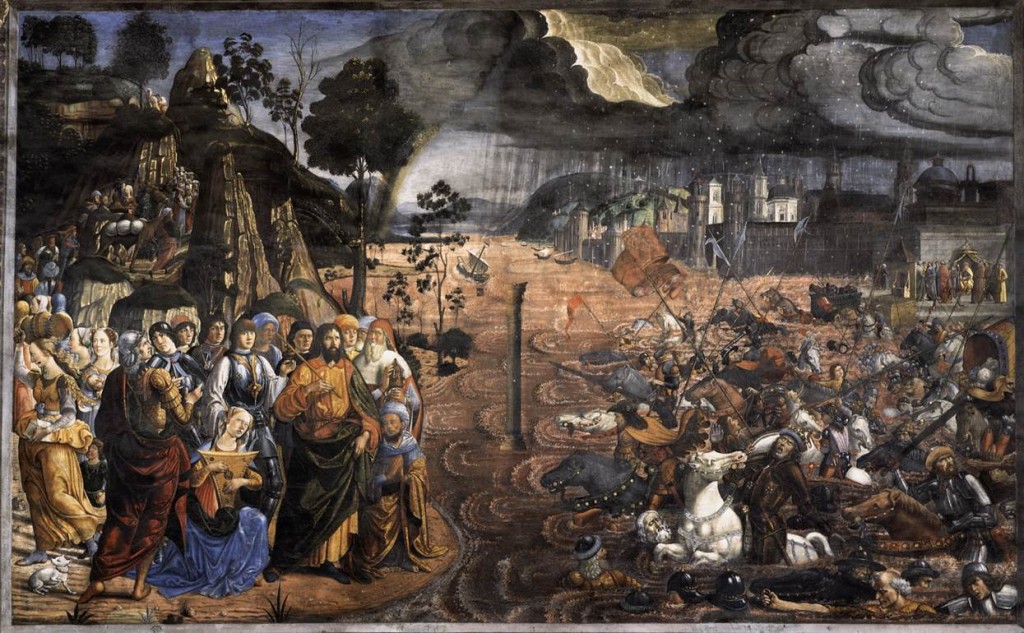 Rosselli, Crossing of the Red Sea
but the Pope wanted the vast ceiling of the Sistine Chapel painted with frescoes of  Biblical scenes as well.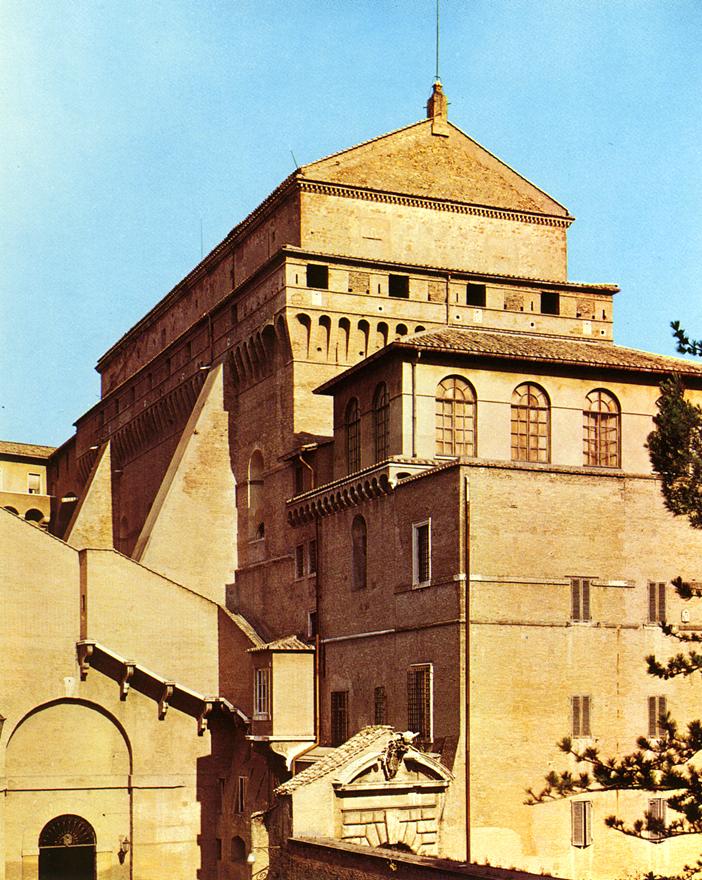 Exterior view of the Sistine Chapel
This 360 degree interactive virtual tour of the Sistine Chapel gives a vivid impression of Michelangelo's vision as well as the other paintings on the walls:
http://www.vatican.va/various/cappelle/sistina_vr/index.html
This was a part of Pope Julius II's grandiose plan to renovate St. Peter's, for which many artists flocked to Rome.
One of them was the painter Raffaello Sanzio, known as Raphael.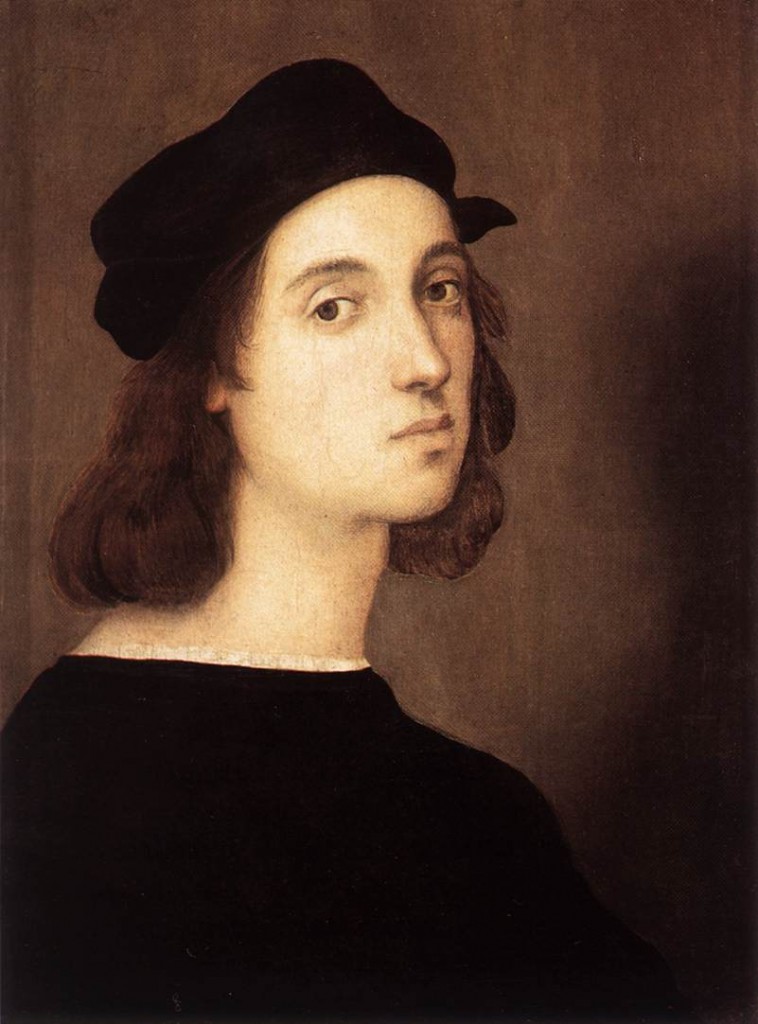 A young painter known for his extraordinarily delicate, sweet-faced madonnas,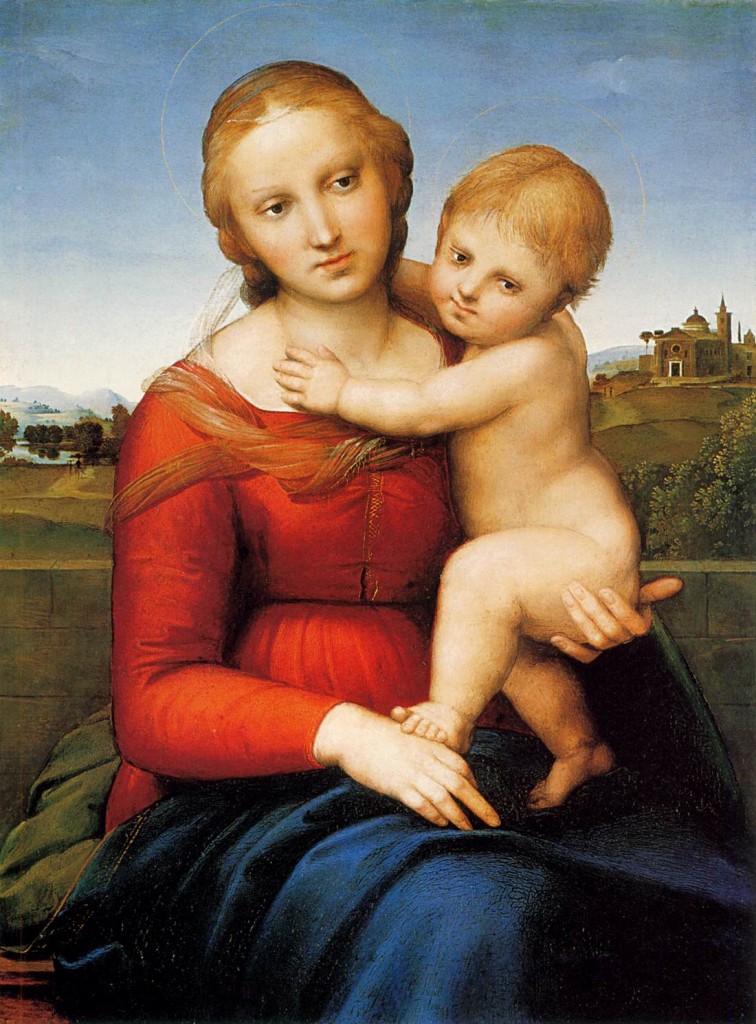 like many artists Raphael's style was influenced by Michelangelo's powerful work in the Sistine Chapel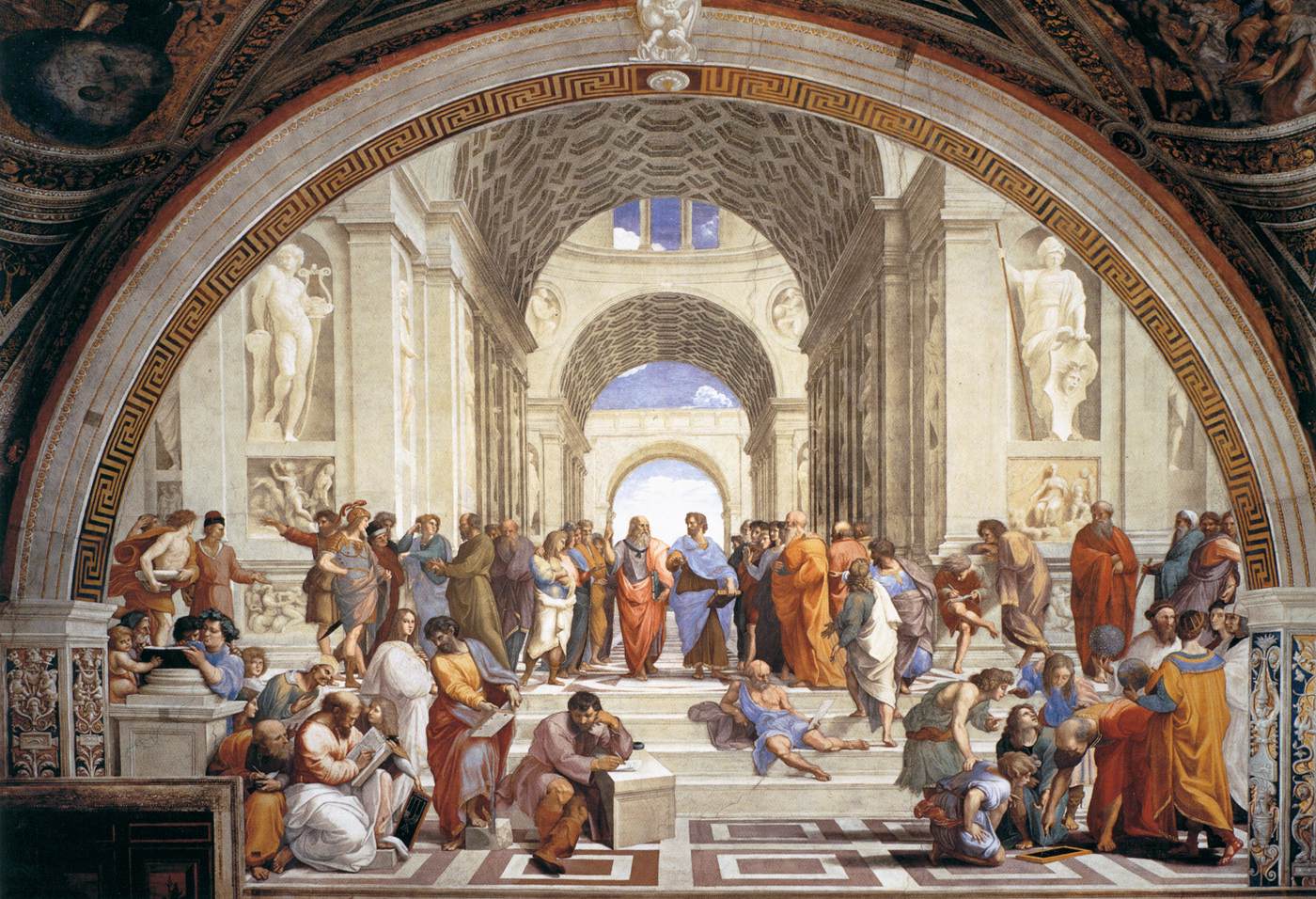 Raphael, The School of Athens, Sala della Segnatura, Vatican
Raphael also went on to decorate the splendid Villa Farnesina of the papal banker Agostino Chigi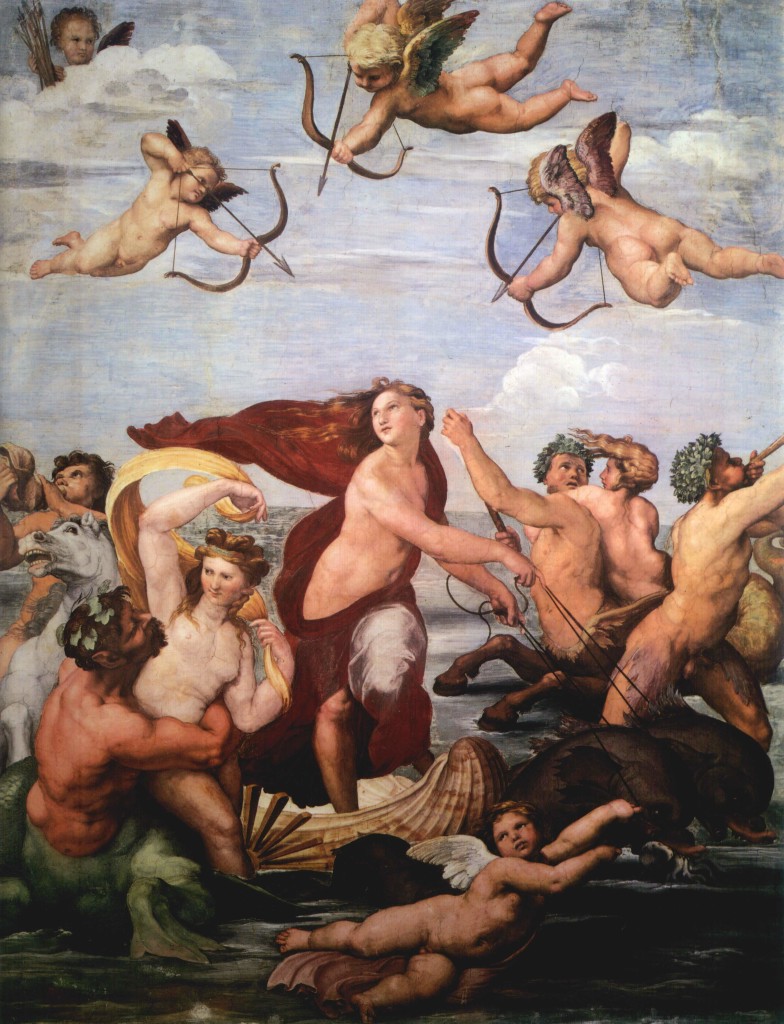 Raphael, Galatea, Villa Farnesina, Rome
Mythological and erotic subject matter appealed to cultivated humanists, who also appreciated witty and scurrilous satire posted on an ancient Roman statue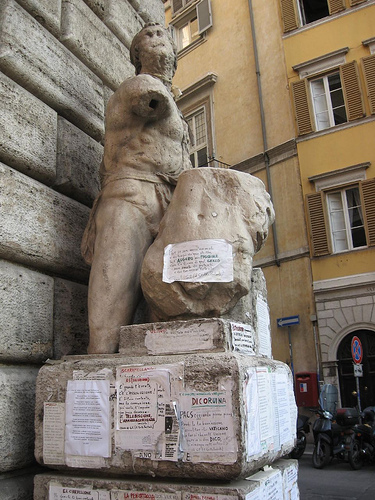 Pasquino
as well as pornographic etchings by one of Raphael's former pupils.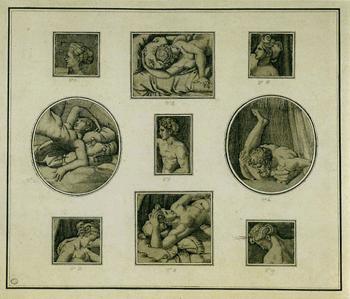 Fragments of Giulio Romano's etchings for Marcantonio Raimondi's I modi
 By 1520 when Raphael completed his masterpiece the Transfiguration, Renaissance art, from the salacious to the sublime, was reaching its peak.
Copyright © 2011-2017  www.lisakaborycha.com | All Rights Reserved