Margherita Aratori (fl. 1584-1601) was the aunt of the painter known to us today as Caravaggio (Michelangelo Merisi 1571-1610). His artistic name derives from the place he and all his family came from, where they were all subjects of the Marchese di Caravaggio, lord of the region. The ties between the artist's family and those of the ruling family were unusually close: his aunt Margherita Aratori, as well as his sister Caterina Merisi both served as balie (wet nurses or nursemaids) to the children of the marchesa, Costanza Colonna.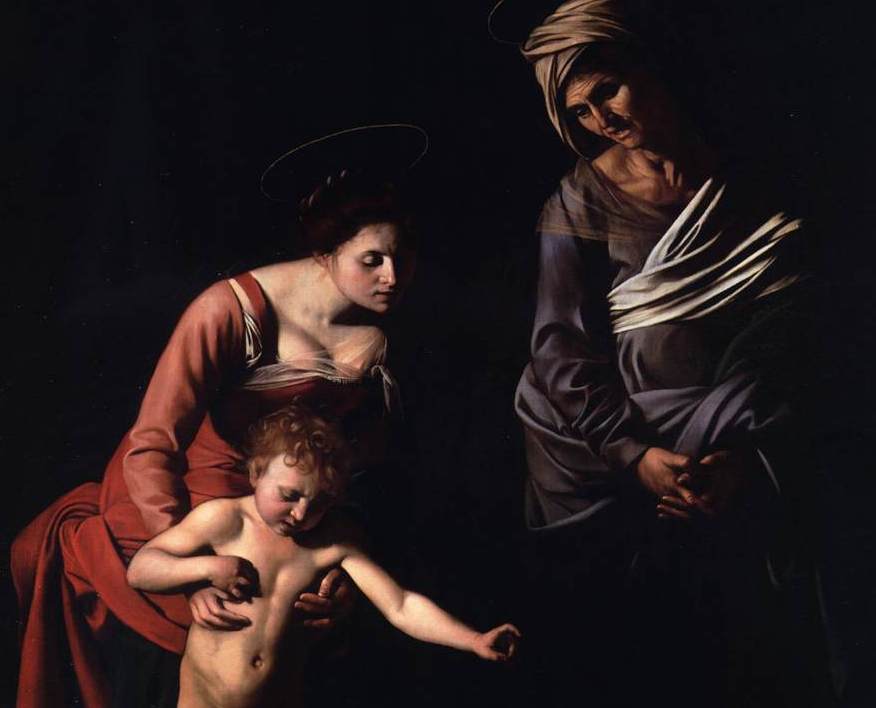 Michelangelo Merisi da Caravaggio Madonna dei Palafrenieri  1606, detail
Letter of Margherita Aratori to Costanza Colonna:
Illustrissima et Eccellentissima Signora
Per mitigare in parte el dolore che hebbe della partita di Vostra Eccelenza, ho voluto con queste quattro righe salutarla et insieme farli riverentia; pregando Vostra Eccellenza se bene lontana a ricordarsi che perpetuamente li saro serva fedele, et spero rivederla con sanita il che mi leva in parte el dolore di non haverla vista avanti la partita; invero non è notte che in sogno non parli con Vostra Eccellenza ne giorno nel quale non giudichi haverla à servire; con questo facio riverentia a Vostra Eccellenza pregandola ricordarsi di me alcuna volta in quelle santissime chiese di Roma. Nostro Signore la conservi lungo tempo. Mio Nipote el prete parimente si inchina à Vostra Eccellenza con perpetua obligazione. Di Caravaggio alli 28 settembre 1601.
Della Vostra Signoria affetionatissima serva la Baila Margherita
la baila Caterina fa riverentia à lei.
Text transcribed by Lisa Kaborycha  from Giacomo Berra's  Il giovane Caravaggio in Lombardia
RESOURCES
Baernstein, P. Renée. " 'In My Own Hand': Costanza Colonna and the Art of the Letter in Sixteenth-Century Italy," in Renaissance Quarterly, Vol. 66, No. 1 (Spring 2013), pp. 130-168.
Berra, Giacomo. Il giovane Caravaggio in Lombardia: ricerche documentarie sui Merisi, gli Aratori e i marchesi di Caravaggio, Firenze: Fondazione di studi di storia dell'arte Roberto Longhi, 2005.
Calvesi, Maurizio. Le realtà del Caravaggio Torino : G. Einaudi, 1990.
Copyright © 2011-2016 www.lisakaborycha.com | All Rights Reserved