Margherita Sarrocchi (c.1560-1617) was born to a well-off family in Naples; after her father's death, care of her education was undertaken by Cardinal Guglielmo Sirleto, who placed her in the convent of Santa Cecilia in Trastevere in Rome. There she received a humanist education in classical languages, as well as the sciences, for which her teacher was mathematician Luca Valerio (1552-1618). Sarrocchi became renowned for her polymath abilities, praised by many leading intellects of the day for her abilities in Greek and Latin, rhetoric, logic, geometry, astrology, natural philosophy, and theology. By the age of fifteen she was known as a prodigy in Roman society and asked to contribute one of her poems to a literary anthology. Sometime in the early 1580s Sarrocchi married Carlo Biraghi and had established a literary salon in their Roman home. Sarrocchi was invited to become a member of the scholarly society, the Accademia degli Umoristi. She joined the Academy in 1602—the first woman to do so—and in the company of learned men she lectured and recited her poetry. Sarrocchi was the author of Scanderbeide, an epic poem in verse, in addition to a number of other works which have not survived. During this time Sarrocchi became acquainted with a fellow Neapolitan, the poet Giambattista Marino, who attended gatherings at her home. The two were initially close, but later the friendship ended in acrimony and very public criticism of each other's literary work. Sarrocchi met Galileo Galilei in 1611 when he was elected to the Lincean Academy in Rome, the year after he published his discoveries with the telescope in the Sidereus Nuncius. A correspondence began between the two, of which seven letters are extant. These letters are to be found in BNCF Mss. Galileani Par. VI. T. XIV car. 33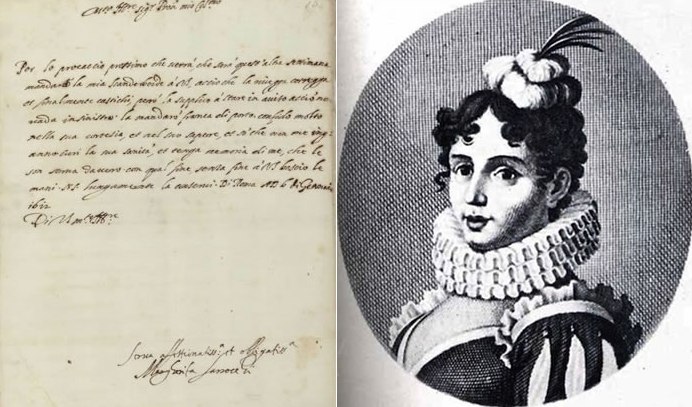 A note from Margherita Sarrocchi to Galileo Galilei
RESOURCES
Margherita Sarrocchi, Scanderbeide: the heroic deeds of George Scanderberg, King of Epirus edited and translated by Rinaldina Russell, Chicago : University of Chicago Press, 2006.
Nadia Verdile, "Contributi alla biografia di Margherita Sarrocchi," in Rendiconti dell'Accademia di Archeologia, Lettere e Belle Arti di Napoli, 1989-1990, vol. LXI, pp.165-206.
Antonio Favaro, Amici e corrispondenti di Galileo: edited, with introduction by Paolo Galluzzi , Salimbene, 1983, Vol 1 pp.29-30.
Copyright © 2011-2016 www.lisakaborycha.com | All Rights Reserved