Isotta Nogarola (1418-1466) was born in Verona, one of ten children of Leonardo Nogarola and Bianca Borromeo. Her father died while Isotta was young, and her mother, who was herself illiterate, saw that all her children received fine humanist educations. There were four brothers and six sisters; Isotta and her younger sister Ginevra (1417-64) became renowned for their classical studies, following in the footsteps of their aunt Angela Nogarola (d.c.1436)  who had composed poems in Latin. Both young women corresponded in Latin with preeminent humanists of the day and were highly praised for their erudtion. Ginevra married in 1438 and gave up her humanist writing, whereas Isotta went on to write Latin poems, orations, dialogues, notably the philosophical work Dialogue on the Equal or Unequal Sin of Adam and Eve (1451), as well as letters, twenty-six of which survive.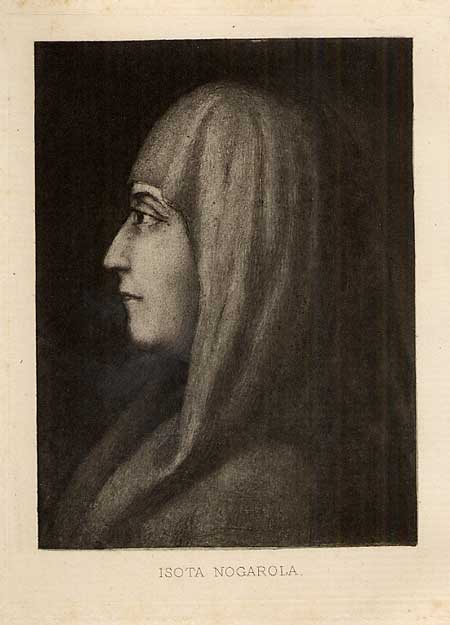 RESOURCES
Isotta Nogarolla's works in Latin in Eugenius Abel, Opera quae supersunt omnia. Accedunt Angelae et Zeneverae Nogarolae epistolae et carmina, Budapest, 1886 online at the Bibliothèque nationale de France
Nogarola, Isotta, Complete writings : letterbook, dialogue on Adam and Eve, orations, edited and translated by Margaret L. King and Diana Robin. Chicago : University of Chicago Press, 2004.
Holt N. Parker "Angela Nogarola (c.1400 ) and Isotta Nogarola (1418-1466): Thieves of Language," in Churchill, Laurie J. , Phyllis R. Brown, and Jane E. Jeffrey, eds., Women Writing Latin: From Roman Antiquity to Early Modern Europe. Vol. 3. Early Modern Women Writing Latin (New York 2002). pp.11-30
Margaret L. King, "Book-Lined Cells: Women and Humanism in the Early Italian Renaissance," in Patrica H. Labalme, ed., Beyond Their Sex: Learned Women of the European Past, New York: NYU Press, 1980, pp. 66-90.
Margaret L. King and Albert Rabil, Jr., eds., Her immaculate hand: selected works by and about the women humanists of Quattrocento Italy, Binghamton, N.Y. : Center for Medieval & Early Renaissance Studies, 1983.
Kristeller, P.O., "Learned Women of Early Modern Italy: Humanists and University Scholars," in Patrica H. Labalme, ed., Beyond Their Sex: Learned Women of the European Past, New York: NYU Press, 1980, pp. 91-116.
Copyright © 2011-2016 www.lisakaborycha.com | All Rights Reserved