Veronica Franco (1546-1591) was a  Venetian poet and courtesan,who through her contact with elite Venetian was able to share her poetry with writers in the most refined literary circles, such as the intellectuals who met at the home of her patron Domenico Venier. By the time she was in her mid-twenties, Franco was a recognized, highly-regarded poet. In 1575 she published a volume of poetry entitled Terze rime di Veronica Franca. During the years 1575-77 plague raged in Venice, forcing Franco to take refuge outside the city, and in 1580 Franco was accused of heresy and witchcraft and tried by the Venetian Inquisition. She was acquitted, and in 1580 Veronica Franco published a collection of her letters: Lettere familiari a diversi.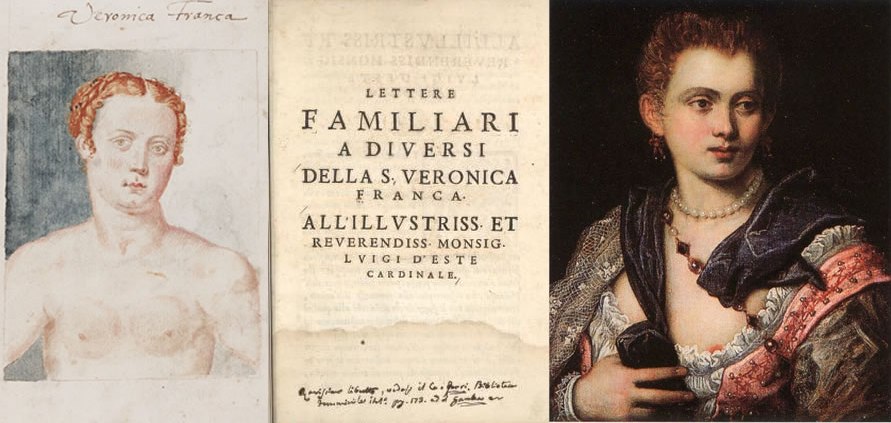 Mores Italiae, Veronica Franco, Beinecke Library               Tintoretto, Portrait of Veronica Franco
Excerpt from Franco's letter to a woman who wants to train her daughter as a courtesan:
"…non ho voluto mancar di farvi queste righe, essortandovi di nuovo ad avvertir al caso vostro, a non uccider in un medesimo colpo l'anima e l'honor vostro insieme con quella della vostra figlia, la quale per considerarla cosa carnalmente ancora, è così poco bella per non dir altro, perche gli occhi non mi ingannano, e ha così poca gratia e poco spirito nel conversar, che romperete il collo credendola far beata nella profession delle cortegiane, nella quale ha gran fatica di riuscir chi sia bella e habbia maniera e goiuditio e conoscenza di molte virtù; non che una giovane che sia priva di molte di queste cose e in alcune non ecceda la mediocrità: e perche ostinatamente persistendo nell'errore mi potreste dir che questo sia giuoco di fortuna, prima vi rispondo che non si può così facilmente, e più esser ministra del male, come bene; ma chi ha buon senno per non trovarsi finalmente ingannato, fabrica le sue speranze sul fondamento di quel ch'è in lui e che può esser fatto da lui. Ma poi soggiungo, che presupposto che la fortuna sia per esservi in ciò tutto favorevole e benigna, non è questa vita tale, che in ogni esito non sia sempre misero, troppo infelice cosa e troppo contraria al senso humano è l'obligar il corpo e l'indistria di una tal servitù, che spaventa solamente a pensarne; darsi in preda di tanti, con rischio d'esser dispogliata, d'esser rubbata, d'esser uccisa; ch'un solo un dì ti toglia quanto con molti in molto tempo hai acquistato, con tant'altri pericoli d'ingiurie e d'infermità contagiose e spaventose? Mangiar con l'altrui bocca, dormir con gli occhi altrui, muoversi secondo l'altrui desiderio, correndo in manifesto naufragio sempre della facoltà e della vita, qual maggior miseria? Quai ricchezze, quai commodità, quai delitie posson acquistar un tanto peso? Credete a me, tra tutte le sciagure mondane questa è l'estrema; ma poi se s'aggiungeranno a i rispetti del mondo quei dell'anima, che perditione e che certezza di dannatione è questa? Guardate a quel che si dice e non vogliate servirvi nelle cose ch'appartengono alla vita e alla salvezza dell'anima dell'altrui essempio, non sostenete che non pur la carne della misera vostra figliuola si squarcino e si vendano, ma d'esserne voi stessa il macellaio…"
RESOURCES
Adler, Sara Maria."Veronica Franco's Petrarchan Terze Rime: Subverting the Master's Plan," in Italica 65 (1988): 213–233.
Bassanese, Fiora A."Private Lives and Public Lies: Texts by Courtesans of the Italian Renaissance," in Texas Studies in Language and Literature 30, no. 3 (1988): 295–319.
Franco,Veronica. Poems and Selected Letters. Edited and translated by A. R. Jones and M. F. Rosenthal. Chicago: University of Chicago Press, 1998.
Jones, Ann Rosalind. The Currency of Eros:Women's Love Lyric in Europe, 1540–1620. Bloomington: Indiana University Press, 1990.
Lawner, Lynn. Lives of the Courtesans: Portraits of the Renaissance. New York: Rizzoli, 1987.
Rosenthal, Margaret F. The Honest Courtesan: Veronica Franco, Citizen and Writer in Sixteenth Century Venice. Chicago: University of Chicago Press, 1992.
LINKS
Veronica Franco Project, USC Dornsife
Veronica Franco Italian Women Writers University of Chicago
Veronica Franco Lettere familiari a diversi, University of Pennsylvania
Copyright © 2011-2016 www.lisakaborycha.com | All Rights Reserved