Arcangela Tarabotti (1604-1652) was born in Venice, Elena Cassandra Tarabotti, one of eleven children and the eldest of six sisters. Possibly due to an inherited defect of a misshapen spine and leg, at age thirteen Tarabotti was placed as a boarding student in the Venetian convent of Sant'Anna in Castello. Several years later she took her vows there, changing her name to Sister Arcangela and lived there for the rest of her life. She hated the cloistered existence of a nun, but she never resigned herself to her fate. Instead, Tarabotti wrote a series of polemical works including: L'inferno monacale (Convent Hell 1643, not printed until 1663); Paradiso monacale (Convent Paradise 1643); Antisatira (Antisatire Against Buoninsegni's Satire on Female Luxury 1644); Che le donne siano della spetie degli huomini (Women Belong to the Human Race 1651); La tirannia paterna (Paternal Tyranny 1654); and Il purgatorio delle mal maritate (The Purgatory of Unhappily Married Women).  Tarabotti also published a collection of her letters entitled Lettere familiari e di complimento in 1650.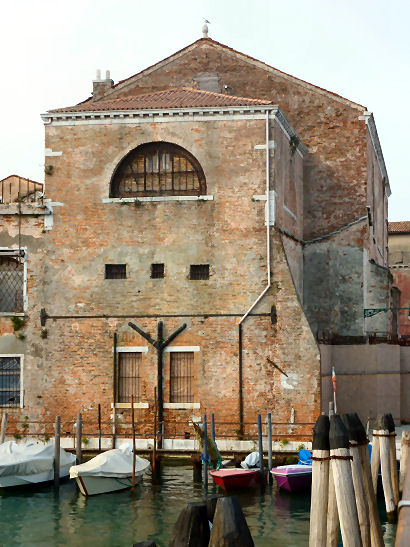 The Convent of Sant'Anna in Venice where Arcangela Tarabotti spent her life
Letter of Arcangela Tarabotti to friar Giovanni Battista Fusconi:
"Al Padre N.
Non so se Vostra Signoria m'abbia più sodisfatta nelle parti del senso o pure danneggiata in quelle dell'anima nell'inviarmi la Sua bellissima Argiope in questo santi giorni.
So bene che la mente, portatasi nel paradiso di Parnaso, si partì dalle contemplazioni del Celeste; e che l'animo, nel trascorrerla invaghitosi nel perfettissimo di quelle linee, se ben tirate da nero inchiostro, si alontanò dal mirar quelle che dovea leggere delineate col snague sul libro dell'umanità del mio Dio. Ho ammirata l'invenzione gentile, le parole soavi, la frase dolce, il verso maraviglioso, quando dovea considerare l'invenzione crudelissima, le parole obbrobriose, il fiele amaro e il modo stupendo col quale gli uomini diedero la morte a chi diede loro la vita. Ho compatito alle passioni e ai martelli di quegli amanti terreni, invece di piangere la passione di Cristo e considerare il martello che crocefisse il Salvatore.
Insomma mi sono più diletata d'una favolamusicale che della tragedia funebre del Crocefisso, ed Ella ne ha la colpa. Me ne confesso però inanzi a Vostra Signoria Illustrissima, e mentre attendo l'assoluzione, La ringrazio vivamente dell'onore e Le auguro queste sante feste ripiene di contenti spirituali. Per veder Cristo risuscitato, m'accompagno con le Marie e men vo al Santo Sepolcro, lasciando ch'Ella sen vadi con li discepoli in Emaus, riverendoLa."
RESOURCES
Tarabotti, Arcangela."Women Are Not Human."An Anonymous Treatise and Responses. Translated by Teresa M. Kenney. New York: Crossroad Publishing Co., 1998.
Tarabotti, Arcangela."Letter to the Reader" from Paradiso monacale and Ferrante Pallavicino's Letter 5,"To an Ungrateful Woman" from Corriero svaligiato, in Paternal Tyranny. Edited and translated by Letizia Panizza. Chicago: University of Chicago Press. 2004.
Ray, Meredith K. "Letters from the Cloister: Defending the Literary Self in Arcangela Tarabotti's 'Lettere familiari e di complimento,' in Italica, Vol. 81, No. 1 (Spring, 2004), pp. 24-43.
Ray, Meredith K. "The Pen for the Sword: Arcangela Tarabotti's Lettere familiari e di complimento," in Writing gender in women's letter collections of the Italian Renaissance Toronto; Buffalo: University of Toronto Press, 2009, pp. 184-213.
Arcangela Tarabotti: a literary nun in Baroque Venice, edited by Elissa B. Weaver Ravenna: Longo, 2006.
Westwater, Lynn Lara. "A Rediscovered Friendship in the Republic of Letters: The Unpublished Correspondence of Arcangela Tarabotti and Ismaël Boulliau," in Renaissance Quarterly, Vol. 65, No. 1 (Spring 2012), pp. 67-134.
Westwater, Lynn Lara. "A cloistered nun abroad: Arcangela Tarabotti's international literary career," in Women writing back/writing women back: transnational perspectives from the late Middle Ages to the dawn of the modern era, edited by Anke Gilleir, Alicia C. Montoya, Suzan van Dijk, Leiden; Boston: Brill, 2010.
Copyright © 2011-2016 www.lisakaborycha.com | All Rights Reserved