Eleonora d'Aragona (1450-1493), daughter of Ferdinando I d'Aragona, King of Naples and Isabella Chiaramonte, Princess of Taranto, was married in 1473 to Ercole I d'Este , duke of Ferrara (1431-1505). She was frequently responsible for governing Ferrara during her husband's absences and illnesses and was highly respected by her subjects. A treatise on ruling and a number of books on the excellence of women were dedicated to her. An important patron of the arts, Eleonora d'Aragona commissioned music and many works of art to decorate the Este palace in Ferrara.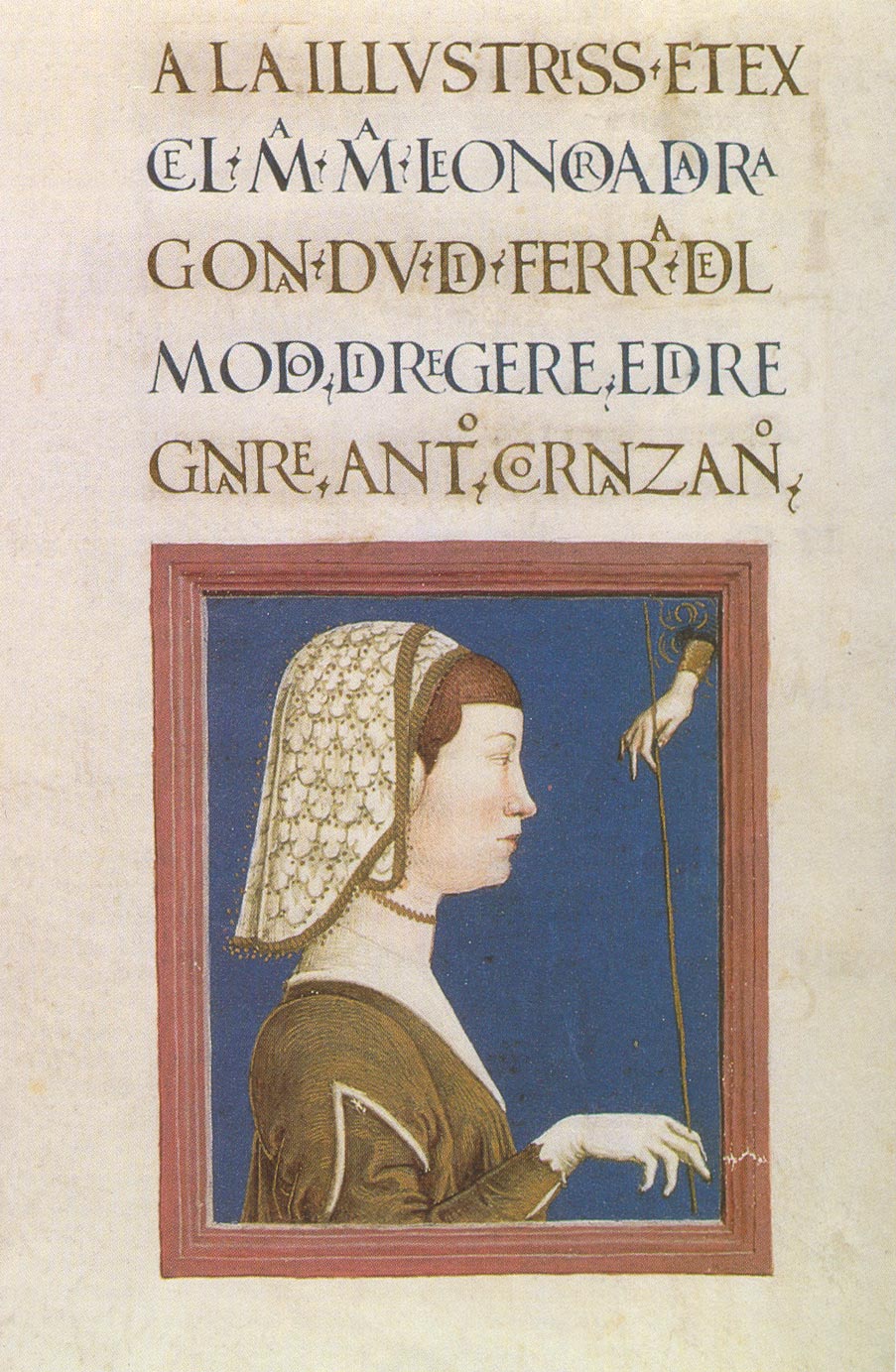 Cosmé Tura Eleonora d'Aragona 1478-9  Dedication portrait in Antonio Cornazzano's Del modo di regere e di regnare, Pierpont Morgan Library
Eleonora D'Aragona to husband Ercole d'Este about his soldiers' unbridled violence:
Se la vostra Signoria non mette uno qualche ordine a questi soi soldati che allozano qui nel barcho, per modo che siano puniti del amazare, robare, sachezare, et malmenare che fano de questi soi subditi, vedo uno manifestissimo periculo in questo populo. Questo dico per quello che è sorto de li assasinamenti facti dopoi la partitia de vostra Excellentia, heri amazorno uno homo da bene qui in caldirolo per un porco che gli havevano levato, che non se vidi mai tanta compassione…le lacrime et oldire li cridi de li fratelli et parenti del occiso, tutti sanguinati et malcontenti li quali venero denanti a me a farne querella. Questa matina sono andati circa homini darmi vinti cum certo bon numero de fanti a Baura cum le belle charete, et hano sachezata tuta quella villa, toltoli lo vino, li lecti, drapamenti et tuto quello che havevano quelli povereti in casa, et ala casa de Alberto Francisco de Guarino gli hano roto li ussi et le chiavadure, et demum sachezatola, et oltra li bestiami de li contadini hano menato via a Baldissera da le fructe una parte de le sue vache che lhaveva in quella circustantia, se bene havevano preso tuto il chiapo [sic], et za condutolo uno da pezo, et cussì hano facto multi altri citadini, per modo che li inimici cum lo exercito suo non ne haveria facto il terzo, et parme che per la pocca obdientia et mancho timore gli sia licito fare ciò che vogliono per non havere superiore ni veruno che li castigi racordando a V.S. che questi non sono stati de quelli del Magnifico Messer Zohanne, ma de quelli proprii de Vostra Excellentia, perché uno famiglio del Gregeto balstrero cum certi altri giotti fu quello che amazò quello poveretto dal porco de heri sira, et per quello che mi fi [sic] dicto quelli de pocca in testa hano facto il sachomano de Baura hozi, perché gli è stato conosciuto Bartholomio per capo de la cavalcata; multi altri ogni hora se ne vengono a dolere de simili extrorsioni feriti et malmenati, per modo che quando lo intendo et che vedo non gli potere provedere, per non essere exercitio de mi povera femina, me voria trovare più tosta morta che viva, o tanto lonzi de qui che non potesse intendere queste cose diaboliche; lo Ilusstrissimo Messer Sigismondo per la cavalcata de heri non se pò movere de casa per il male de pede; Messer Nicolò Corezo non gli ha superiorità ni obedientia. Io non scio dove voltarme per provedere a tanti manchamenti, li quali oltra la ira de Dio, che non el potria comportare, vedo questo populo doverse levare a tale remore, che guai se gli retrovarà, perlaquale cossa prego et supplico Vostra Excellentia se digni de metterli tale ordine incontinente, se bene la dovesse venire fino qui, che siano puniti chi fano simili excessi, perché lé anche più el facto de Vostra Excellentia a farlo, che non è quello de li citadini per il manifesto periculo in che vedo se ha ad incorrere, chi non gli remedia per la sublevatione del populo, certificando V.S. che da mo inanti partendosse Lei di qui, la non me lasserà in tanti guai et affanni, se bene me ne dovesse fuzire senza licentia alcuna, perché non gli poteria durare appresso li altri affanni in che me retrovo; et ad V.S. me raccomando. Ferrara 29 maggio 1482
Transcription from Chiappini pp.52-53
RESOURCES
Chiappini, Luciano. Eleonora d'Aragona, prima duchessa di Ferrara, Rovigo: S.T.E.R., 1956.
Eleonora d'Aragona, "Your Obedient Consort": A Selection of Eleonora d'Aragona's Letters to Ercole d'Este (1477-1493), ed. and trans. Diana Rowlands Bryant, The Other Voice, Toronto , upcoming.
Gundesheimer, Werner. "Women, Learning, and Power: Eleonora of Aragon and the Court of Ferrara," in Beyond Their Sex: learned women of the European past, edited by Patricia H. Labalme., New York : New York University Press, 1980. pp.43-65
Phaethon's children: the Este court and its culture in early modern Ferrara, edited by Dennis Looney and Deanna Shemek. Tempe: Arizona Center for Medieval and Renaissance Studies, 2005.
Manca, Joseph, "Isabella's Mother: Aspects of the Art Patronage of Eleonora d'Aragona, Duchess of Ferrara," in Aurora 2003 4: 79-94.
Copyright © 2011-2016 www.lisakaborycha.com | All Rights Reserved