Vittoria Archilei (fl.1582-1620) created a sensation when she sang at the 1589 wedding of Ferdinando I de' Medici and Christine of Lorraine. She  performed the role of Harmony, in the words of one spectator: "singing solo very, very excellently," as she descended to the stage on a cloud. Born Vittoria di Francesco Concarini in Rome, in 1582 she married the musician Antonio Archile. In 1584 the couple left Rome to perform at the wedding festivities of Eleonora de' Medici and Vincenzo Gonzaga in Florence, and it was here that Vittoria Archilei's stunning career as a virtuoso soprano took off. Vittoria and her husband worked in collaboration with impresario and composer Emilio de' Cavalieri (c.1550-1602) who was active in the Florentine Camerata, developing the emerging avant-garde style of solo singing that would come to be used in the new art form of opera.  Throughout the 1590s she sang to great acclaim, dividing her time between Rome, where she sang for the powerful Orsini family, and in the Grand Duchy of Tuscany for the Medici. The composer Jacopo Peri (1561-1633) referred to Archilei as "that famous woman who may be hailed as the Euterpe of our age[…] a singer of great excellence as demonstrated by her wide renown, who, through her singing, has always made my compositions seem worthy."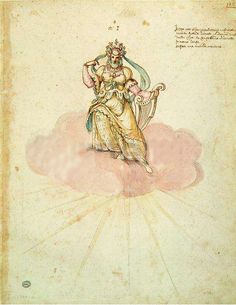 Bernardo Buontalenti Design for La Pellegrina Intermedio for 1589 Wedding Festivities of Ferdinando I de' Medici and Christine of Lorraine
Letter of Vittoria Archilei to the Grand Duchess Christine:
Serenissima Madama,
io me ritrovo ogi apresso l'Illustrissimo Signor Cardinale Montalto, nella qual casa mi son buttata per quel tempo che ho da star qua in Roma Parendomi di servire la istessa persona del Serenissimo Gran Duca e di Vostra Altezza Serenissima per essere Sua Signoria Illustrissima tanto amico e servitore di quella Serenissima Casa, e perche da Sua Signoria Illustrissima io ricevo giornalmente molte gratie e che con questa bona occasione potrei sperare mediante la gratia et favore di Vostra Altezza Serenissima ottener qualche bene ecclesiastico in persona di Ferdinando mio figliuolo e creatura di Vostra Altezza Serenissima per haverlo lei fatto mettere in questo luogo del seminario dove va tuttavia havanzandosi per farsi meritevole nelle bone lettere e nelli boni costumi, volendo esser sacerdote. La suplico che per amor de Idio vogli farmi gratia di concedermi ancora qualche poco di tempo da poter star qua servendo Sua Signoria Illustrissima che con questo io mi assicuro facilmente di ottenere quanto desidero quando però dalla benigna mano di Vostra Altezza Serenissima gli venghi raccomandato detto mio figliuolo il quale poi quando harrà finito il suo studio come noi medesimi potrà servire Vostra Altezza Serenissima in tutto quello che conoscerà possi esser buono per servire. Serenissima Signora, io ho speso tutti gl'anni della mia gioventù in servitio delli maggior principi di Cristianità et anco credo non essere stata delle ultime nella mia professione. Me ritrovo ogi in tal termine che se a ssorte mi mancasse il mio marito, non solo non potrei sostentare la mia famiglia, ma durarei una gran fatiga a poter viver io sola, potendo dir veramente di non haver altro in questo mondo che quella poca dote che mi diede la buona memoria del mio primo padrone, attribuendo tutto questo solamente a la mia mala fortuna e non per mancamento alcuno delli miei Serenissimi padroni, perche tutti gl'altri che anno servito del tempo mio, dal minimo sin'al magiore, tutti sono stati in qualche maniera remunerati, eccetto la povera Vittoria, la quale a esclamato tanto con la sua povera voce che ormai è venuta in fastidio a tutto il mondo e poco più può esser bona a tal'effetto. Retrovandosi ogi mai vecchia e povera, onde che pensando molto bene al fatto suo essendoci ancora un poco di fiato con la gratia e favore di Vostra Altezza Serenissima vol vedere in questa bona congentura se puole accomodar almeno di qualche pensioncella per hora questo suo figliuolo, il che non gli serrà dificile ogni volta che con la sua bona gratia possi stare ancor qualche mese qua. Nel qual tempo se piacera all'Altezza Vostra Serenissima che gli corra la sua provesione tanto magiore sarrà l'obligo, e se anco questo non gli parera di concederglelo a ogni modo restarà sodistattisima e contentissima ogni volta però che tutto segua con tutta la intiera buona gratia del Serenissimo Gran Duca e di Vostra Altezza Serenissima, alli quali, con magior umiltà che pole, se gl'inchina e gli basa la veste pregando sempre l'eterno e magno idio per la loro salute. di Roma li 28 di gennaro 1602
Di Vostra Altezza Serenissima e Benignissima Serva umilissima, Vittoria Archilei
Transcription by Lisa Kaborycha from Archivio di Stato di Firenze MDP 5985 fols. 42r-v (reading differs slightly from that of Tim Carter)
RESOURCES
Carter, Tim. "Finding a voice: Vittoria Archilei and the Florentine 'New Music'," in Feminism and Renaissance studies, edited by Lorna Hutson. Oxford; New York: Oxford University Press, 1999, pp. 450-467.
Kirkendale, Warren. The Court Musicians in Florence during the principate of the Medici: with a reconstruction of the artistic establishment. Firenze: L.S. Olschki, 1993.
Newcomb, Anthony. "Courtesans, Musicians or Muses? Professional Women Musicians in Sixteenth-Century Italy," in Women Making Music. The Western Art Tradition, 1150-1950, ed. Jane Bowers and Judith Tick, Urbana: University of Illinois Press, 1986.
Treadwell, Nina. Music and wonder at the Medici court: the 1589 interludes for La pellegrina, Bloomington; Indianapolis: Indiana University Press, 2008.
Treadwell, Nina. "She descended on a cloud 'from the highest spheres': Florentine monody 'alla Romanina'," in Cambridge Opera Journal, v. 16, n.1 (2004), pp. 1-22.
Copyright © 2011-2017 www.lisakaborycha.com | All Rights Reserved